While ice is a problem usually associated with winter weather, the summer creates favorable conditions for hailstorms. Since hail forms in severe thunderstorms with large updrafts that bring liquid rain to a higher elevation where it can freeze, these types of storms are most likely in the warm season. While small hailstones are unlikely to cause major damage, larger stones can fall at speeds over 50 mph and cause great damage to roofs and siding. This damage is usually most pronounced on western walls and roof slopes. Since this damage can be expensive to repair if you live in a region prone to hail it can make sense to build with hail-resistant materials. Here is a rundown of common siding materials and their resistance to hail damage.
In regions such as the front range of Colorado and the plains of Kansas and Nebraska, hail storms are a common occurrence.
Wood Products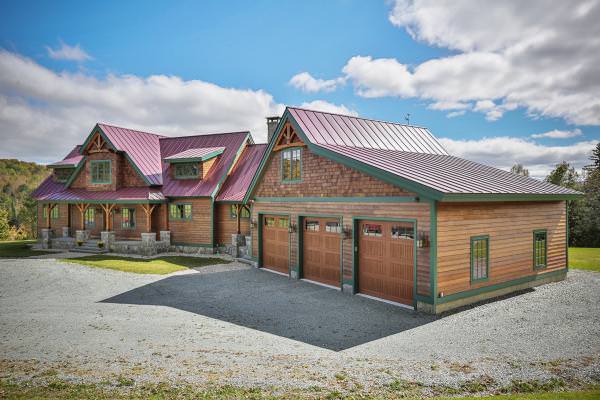 Wooden siding options, whether they are vertical siding like board and batten or horizontal ones like clapboards and shingles, have enhanced durability to withstand hail damage. With more intense hailstorms, the wood may dent or crack.  Usually, damage can be repaired by sanding out dents and re-staining or painting the finish, but in severe cases, the siding may need to be replaced.
Stucco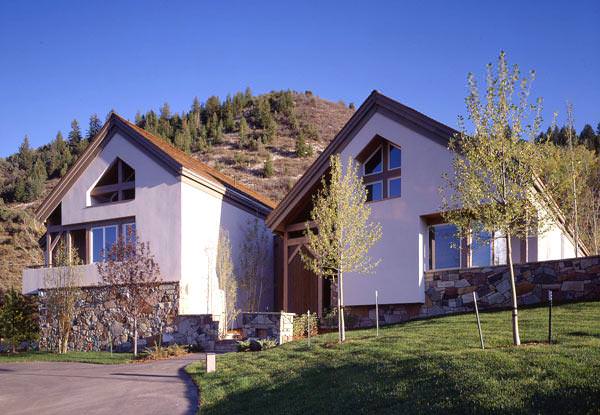 Stucco has great impact resistance, and usually weathers a hail storm without issue. If there is damage in a larger storm, it is typically isolated to corners and near window ledges. Since these blemishes can be patched rather than replacing the entire siding, repair costs tend to be lower.  Those factors make stucco a very popular choice in the hail-prone regions of Colorado (such as this ski home shown at right which was built in Vail, CO).
Concrete Products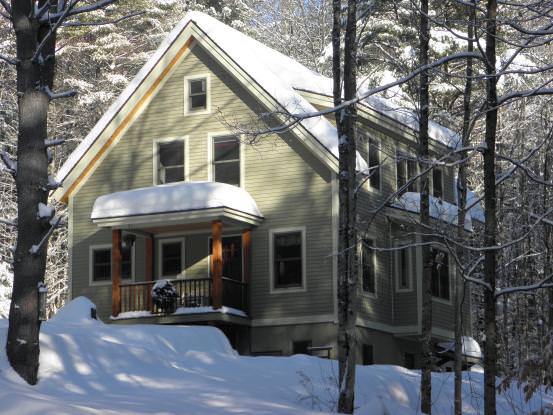 Concrete Siding, like HardiePlank siding, tends to also have superior impact resistance. These products use wood fibers set in concrete to mimic the look of wood while offering greatly reduced maintenance. If these products do become damaged in a hail storm, only the edges will likely chip.  The durability, combined with a classic look that can fool many into thinking it's genuine wood siding, makes this an excellent siding option.
Vinyl Siding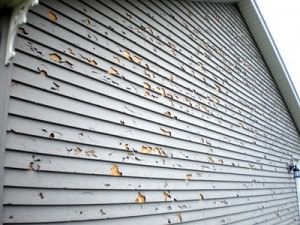 Vinyl Siding is perhaps the most inexpensive siding material, but it is also likely the most prone to hail damage. Hail may just dent or crack the siding, but it is also very likely to punch a hole through the siding. This is especially true if you have older vinyl siding, since over time vinyl weathers and becomes brittle. Some vinyl siding is available with foam insulation behind it which helps with impact resistance, but this added expense does nothing to increase the aesthetic appeal.  For these reasons, we do not typically recommend vinyl siding.
Aluminum Siding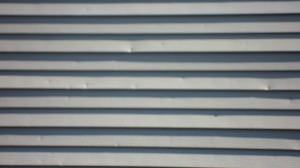 Unlike vinyl, aluminum siding will not break or crack from hail damage. However, larger stones are likely to dent the siding. This means the siding does not need to be replaced, but it's less than flattering looks may prompt you to replace the siding anyway.  We do not typically recommend aluminum siding either, though it is a step up from vinyl siding. So, if you're planning to build your timber frame home in a region that experiences hailstorms, make sure you consider your options.  The best choices all around for aesthetics and durability are wood products, stucco or cement products.  If you have any questions about a specific siding option or would like to learn about the siding products Timberpeg recommends, please contact the team at Timberpeg today to learn more.