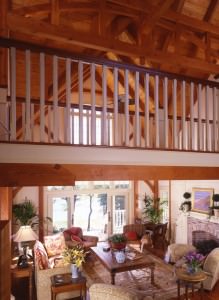 Post and beam construction naturally lends itself to open spaces and, of course, cathedral ceilings. The most common area that timber frame homeowners choose to have a cathedral space is the great room. But not all timber frame homes have cathedral living rooms or great rooms. The picture to the left shows a common cathedral timber frame great room where the homeowners wanted to take advantage of the beautiful view not only from their living room but also from the balcony upstairs. We wanted to take some time to feature great rooms and living rooms that are not vaulted and also highlight some of the other rooms in a timber frame home where vaulted ceilings can create the perfect atmosphere.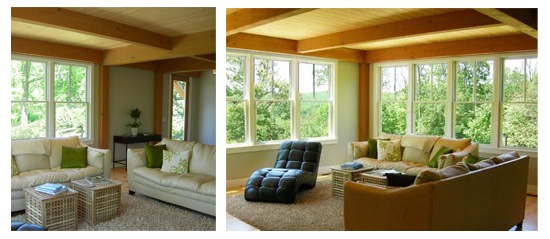 The home featured above shows a kitchen, dining room and great room that are open but, unlike many timber frame homes, none of these rooms have vaulted ceilings. The use of a half wall around the kitchen, and furniture placement in the other rooms, define the room spaces while still keeping the area open.Above is a timber frame great room with a contemporary design style. Although the ceilings are low, the large windows combined with the light color pallet keep the room bright and airy. The jungle green throw pillows mimic the vista through the windows bringing the lush colors found outside into the room.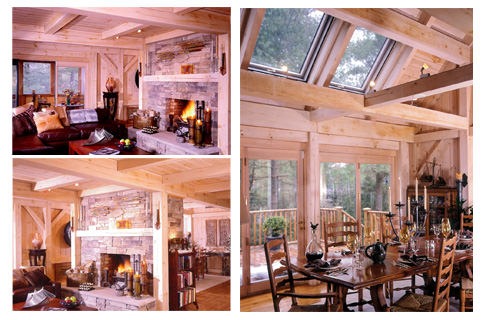 Above is another example of a modern style look. But rather than having an airy contemporary feel, this homeowner took his eclectic style and created a "warm and cozy" atmosphere for the great room. Again, the great room in this timber frame home has low ceilings, but you can see that the dining room, which is just beyond the great room fireplace, has cathedral ceilings along with skylights. The homeowner felt that the dining room was the area where more entertaining would occur, so he wanted this space to be bigger and more open.
Last, but certainly not least, is the above post and beam home where the homeowners kept the first floor living spaces – the kitchen, dining room and great room – open but with low ceilings.  The couple decided to take advantage of the vaulted ceilings to create a master bedroom retreat where the beautiful views are not only of the lake and mountains but also of the king post truss just beyond the glass in the cathedral ceiling. So, if you thought your only choice for a "great" great room was to have ceilings reaching 18-20 feet or higher, think again! Every timber frame home is different and can be designed to suit your wants and needs. Contact us if you would like to begin designing your dream timber frame or post and beam home.