While this blog is titled "Celebrating Beautiful Barns," Timberpeg specializes in barn-style homes as well as more modern timber frame construction. Even though most of our clients are looking for a home, there is something about this time of year that makes us think of barns. While hardly any barns are used these days for their ancient purpose of barley storage, many of our clients have had barns built to serve as garages or workshops. Here are a few of the most handsome barns we have built.
This barn garage/workshop in Massachusetts is the perfect modern take on an old style of barn. The central section, with the "hay hood" roof, cupola and sliding barn doors has a classic New England look to it. The cross gable section, with its more modern triangular profile and hinged doors, feels like a slightly more modern addition that still fits perfectly with the rest of the barn. With vehicle access from five different doors on three sides of the barn, the garage is highly useful as well.
This next barn garage is also a grand office space. The ground level hosts a four-door garage, while the understated upper windows suggest there might be useful space up top. Unlike many garages that host a guest quarters up top, this barn garage is instead a working environment. In addition to several individual desks, this space even boasts a conference table.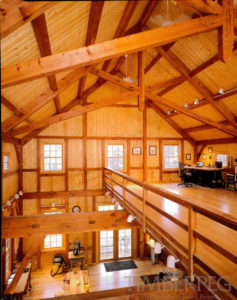 This barn in New Jersey looks simple from the outside, with the understated presence typical in many East coast homes. Once inside, the beautiful posts and beams and detailed scissor trusses command attention. The timber frame and joinery details are especially appropriate in this barn since it is used as a woodshop by the owner. The spacious and open floor plan is perfect for all the woodworking tools, while an upper loft space serves as an office space.
This final barn also has an older look about it, with its multi-pitched roof and upper floor hoist beam. The inside, however, serves as storage for automobiles both new and old, as well as housing a boat and wood for the all-too-quickly approaching winter season.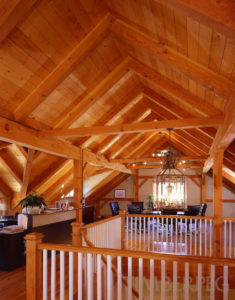 We hope you've enjoyed this look at some handsome modern takes on the humble barn. Whether your building plans involve a barn, home or any other timber frame structure, we would be pleased to design and build it. Please contact Timberpeg today to get started.