For decades now, the overriding trend in home construction has been towards single-level living. Even when spare bedrooms are located upstairs, most people desire a first-floor master bedroom and a rambling floor plan. One great benefit of building your own home, however, is being able to use a floor plan that works for you even if it bucks popular trends. The Stoney Creek is one such home that harkens back to the heyday of Craftsman-style homes.
The outside of the Stoney Creek has many elements of the Craftsman style. The columns supporting the entryway roof are of a square profile that tapers as they rise. Also, the double pane windows of six sections over one are also a distinctive Craftsman feature. While the home is a bit tall to be a Craftsman bungalow, the use of a shed dormer for the upper floor windows is true to the style as well.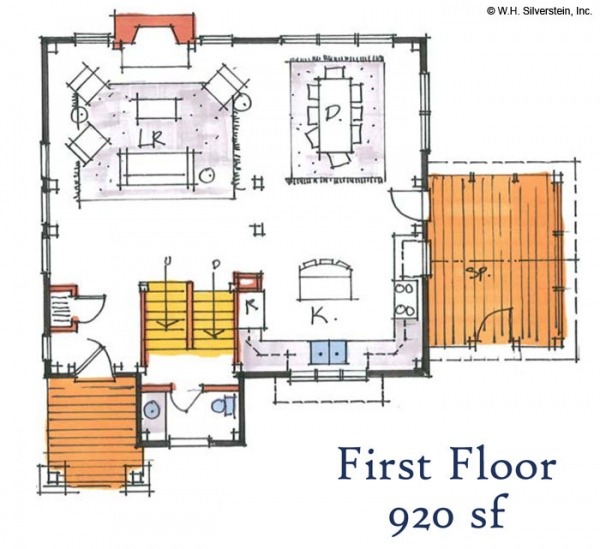 The home consists of 1740 square feet on two levels, plus another 1000 square feet in the finished basement. Entering the home, we pass a small closet and then enter the living room. With comfy furniture and a brick fireplace, this room is a great place to relax. The adjacent dining space is spacious enough to accommodate large parties. The kitchen features a large island with two layers of storage below for pots and pans, and the cabinets are a vivid forest green. Off the kitchen is a screen porch which expands entertaining options in the warmer months.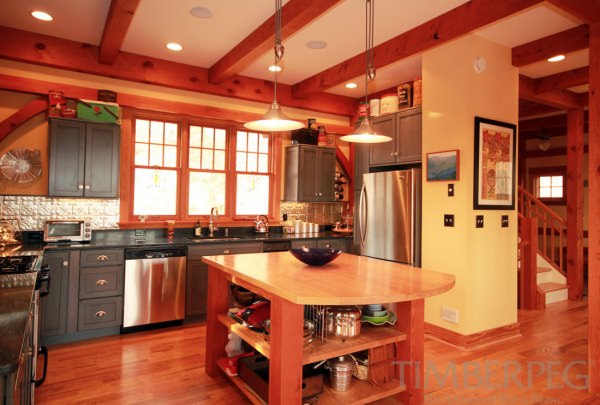 A unique feature of the home is the efficient placement of the powder room. To save space, there is no restroom on the main floor. Instead, the stairwell has extended landings midway between the main floor and both the upper floor and basement. The upper landing has a reading nook with a built-in padded bench and plenty of light. The lower landing dedicates the space to a bathroom, conveniently between the public areas of the main floor and basement.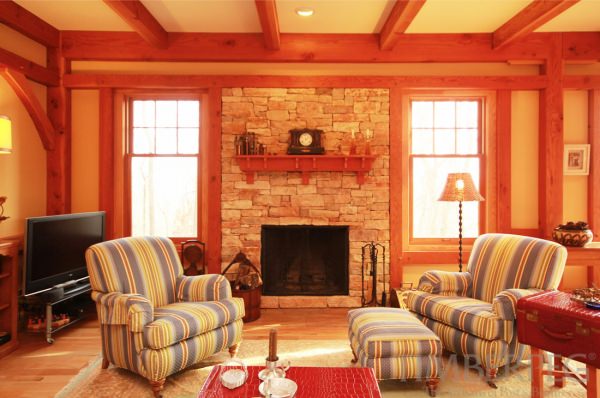 The basement houses utility space as well as a large hobby room. It also holds one of the two master suites, featuring an ensuite with separate tub and shower. The upper floor exclusively houses two more bedrooms. The guest bedroom has its own ensuite, while the second master bedroom features a walk-in closet and large soaker tub with a view.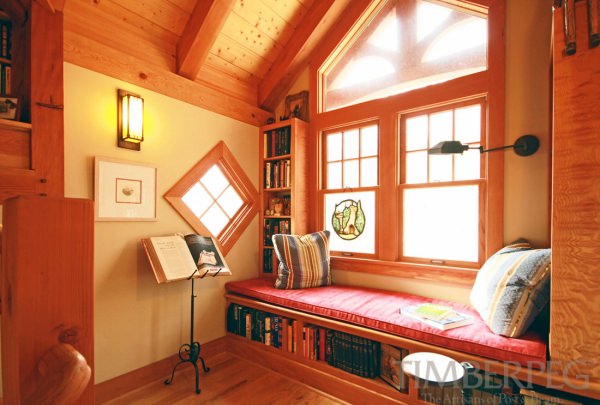 If you're looking for a Craftsman style timber frame home, we have many examples for you to browse. To get started on your home, whether based off an existing plan or starting new, please contact us here.