These days, a master suite is not merely a place to sleep with an attached bathroom but also an extension of the aesthetic and function of the entire home. Since we spend about a third of our time sleeping in the bedroom, and additional time preparing for and unwinding from the day, you should give careful consideration to designing the master suite to match your lifestyle. Here are a few tips for designing your master suite and its relationship with the rest of the house.
Location
The first floor master suite is very popular these days, preferred about two-to-one over a second floor master. If you decide to go this route, consider where you will place the bedroom on the main floor. You will want to separate your master from living spaces where people may still be gathered after you retire for the night. Although walls can be soundproofed well, a short hallway separating the suite from common rooms helps preserve your privacy.
Closets

The walk-in closet is of course the most popular choice for the modern timber frame home. It offers the space needed to store and easily access your clothes. A popular recent trend is for "his and hers closets" with separate closets for each occupant of the master bedroom. If you currently find getting ready for the day involves a traffic jam in the closet, then this may be an option to consider. In any case, think about where you will site the closet relative to the bedroom and master bath. Direct access to the closet from the bathroom can be very convenient if your morning routine consists of dressing right after a shower.
Laundry

If your master suite is instead on the second floor with other bedrooms, consider moving the laundry room to the second floor or even into the master suite. Lugging the laundry up and down the stairs is a chore, so situating the laundry room where most of the laundry is generated makes sense. If you have bedrooms on split levels, then a first-floor laundry probably makes more sense. Situating the laundry close to or in your suite is still a good idea. Of course, if it's difficult to compromise which floor should have the laundry room, many homeowners are deciding to have two laundry rooms, one dedicated to the entire household, and one specialized just for the bedrooms. That also allows for tailored appliances that are ideal for steam cleaning delicates, and also an all-around washer perfect for washing dish towels and tablecloths.
Sitting Area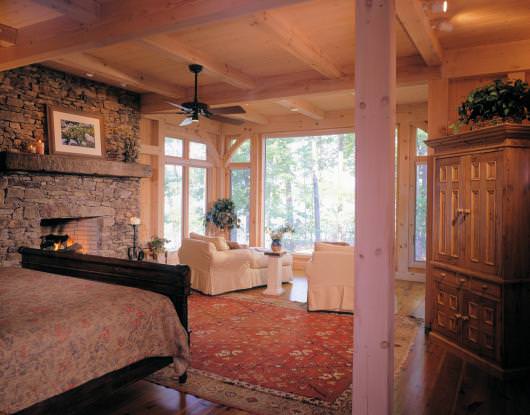 Many homeowners like to design a siting area within their master suite. This can provide a nice, quiet space to relax away from kids or visitors to the house. If you use this design element, consider how you want to situate your siting area relative to your building site. If you plan on spending a great deal of time here, then maybe placing the siting area where it has a good view outside is important. If it will only be an occasional respite, then you should consider saving the good views for more used rooms like the living space or great room. So, what do you think is essential for an ideal master suite?  Are you a purist who only wants a good night sleep? Or do you prefer a master suite with extra amenities? Leave us a comment and let us know. And if you have any questions about any of the homes featured or would like to learn about designing your own timer frame home, please feel free to contact Timberpeg. Sweet dreams….