The framing in a Timberpeg home can be kept very minimal thanks to our structural insulated wall panels, and many clients opt for a simple frame that looks clean and modern.  Of course, others like the look of the frame so much they want a lot of it to show.  Either way yields a beautiful energy-efficient home. While there is a wide range in the amount of framing used, there's also an equally wide range of ways that clients can finish their post and beam frames.  Here are a few of the different frame finishes our clients have chosen through the years.  We'll start with the darkest, and progress towards the lightest.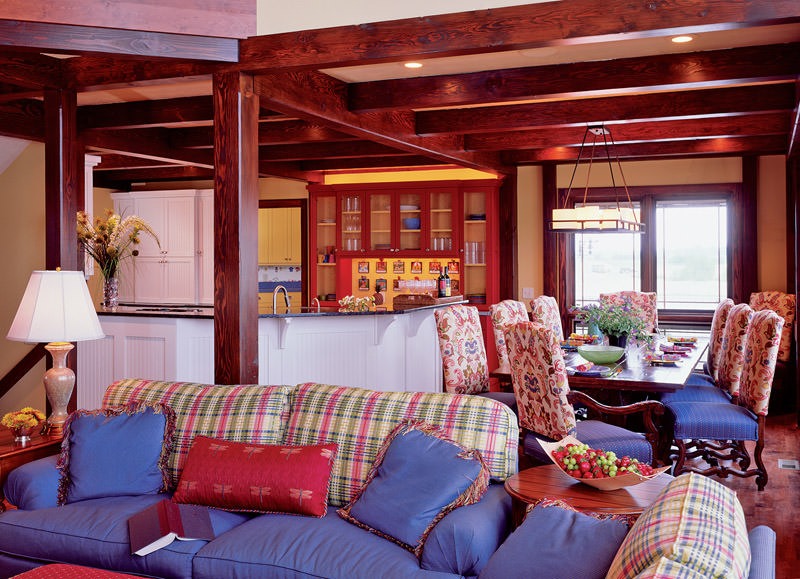 Not only does this post and beam frame have a dark stain, it also has a semi-gloss finish which gives it a truly unique look.  The fun, vibrant upholstery choices that the clients made also add to the unique charm of this post and beam home.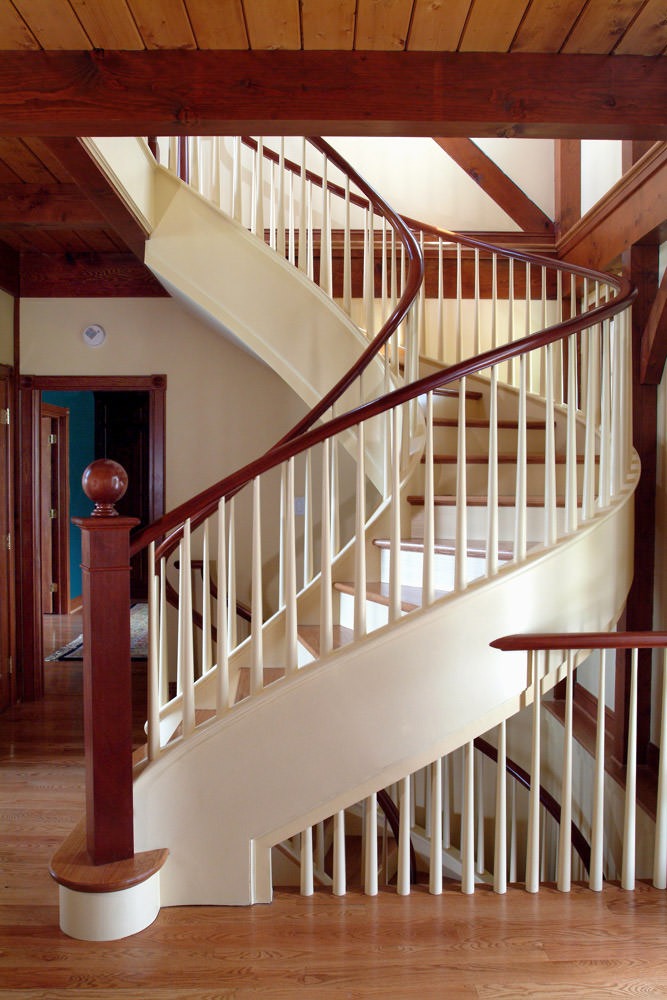 The post and beam frame in this home is a slightly lighter finish, but still a dark stain.  It works well to make the cream colored, custom spiral staircase visually pop due to the contrast.  The frame also has a nice contrast level with the ceiling finish and the finish on the oak floors.  This home is a great lesson in using contrasting tones together in harmony.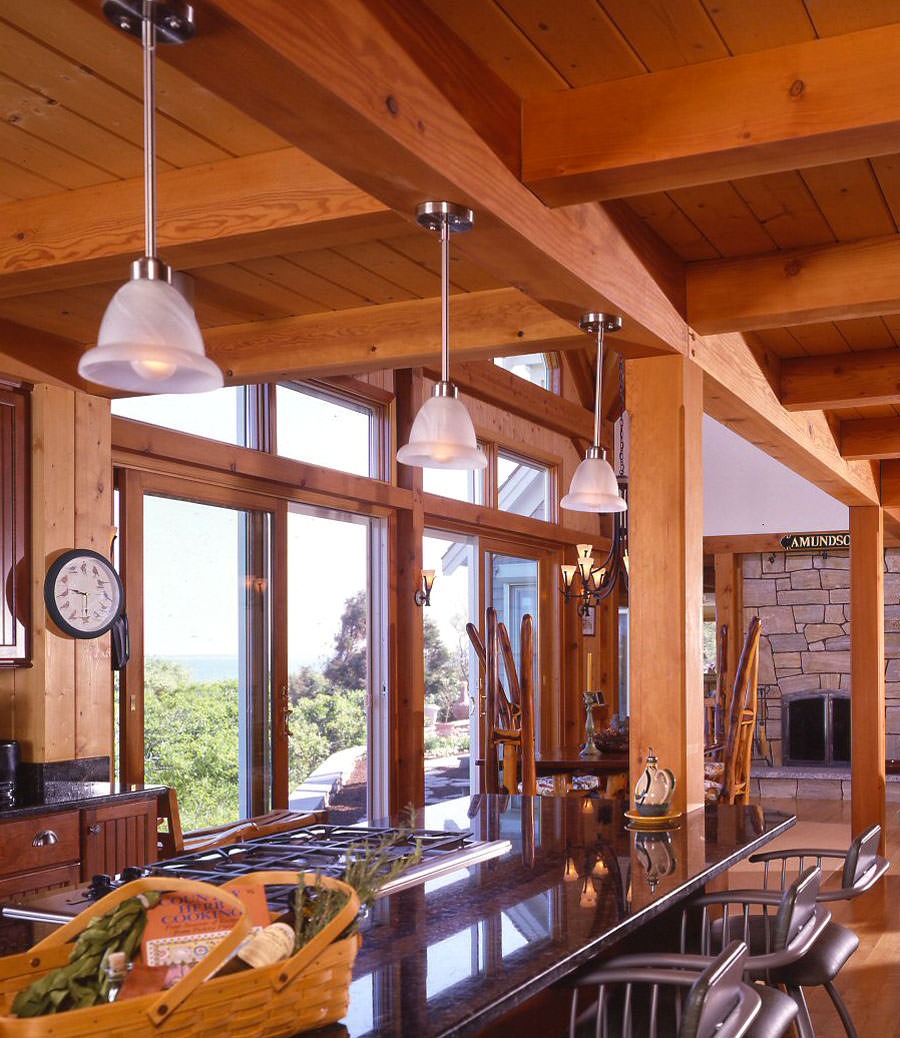 This kitchen shows what would be considered a neutral finish on Douglas fir (the standard wood species for a Timberpeg home.)  The frame here has barely been treated at all.  Only a clear matte finish was used.  The natural look works well in this sea-side setting.  A wall of windows and glass doors really lets in the view.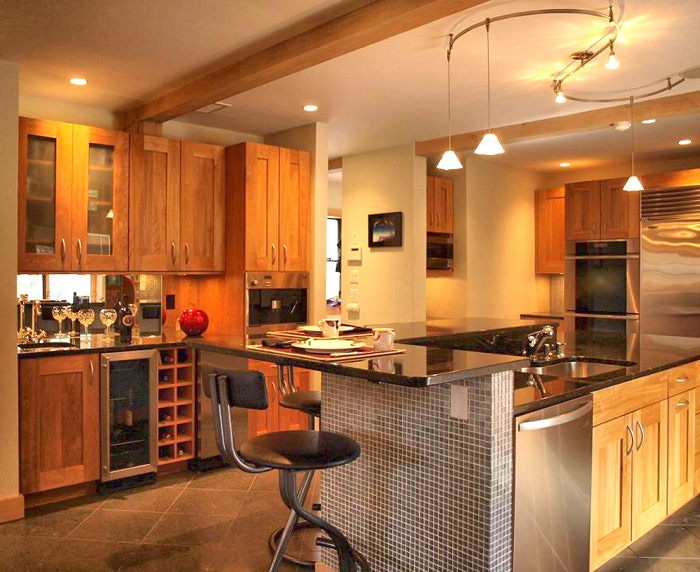 The frame in this home was originally finished with a pickled white.  Years after the home was completed, the clients decided to renovate the kitchen and opted to remove the white finish from the frame.  The result is this subtly light frame.  The minimal amount of framing used in this kitchen (just two exposed beams) allows for the modern light fixture to shine as the center of visual interest.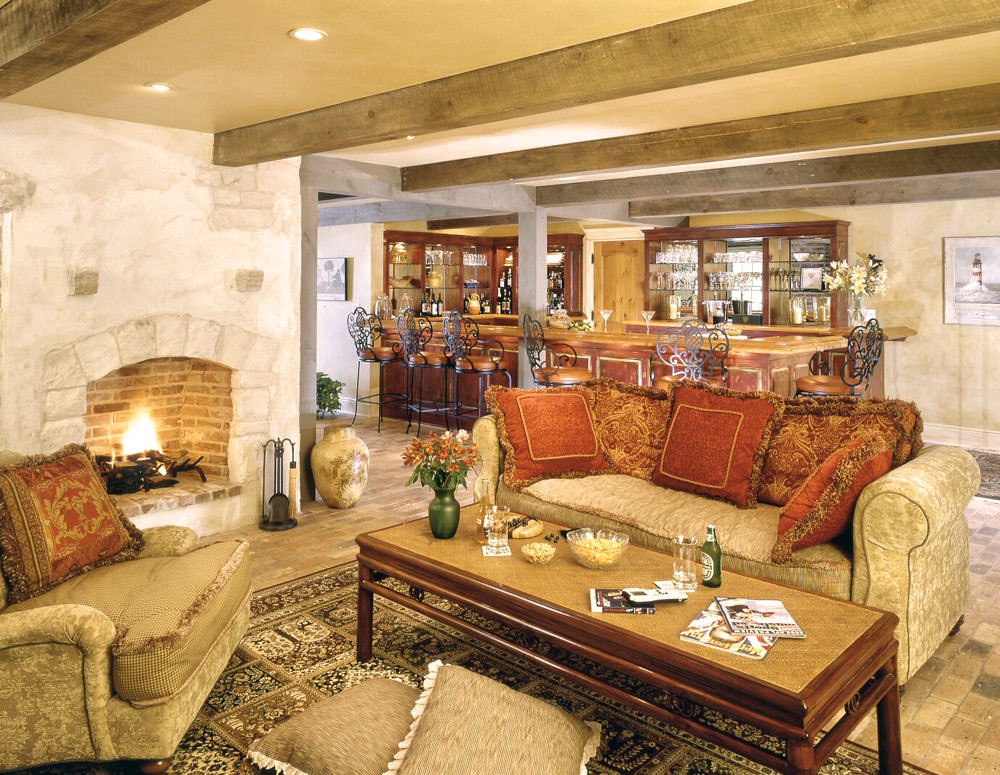 This is the walk out basement level of a post and beam home built in Massachusetts.  The entire level of this home is devoted to entertaining and to wine.  The home has both a large wine cellar, but also an intricately crafted bar.  The whole theme is vineyard chic.  Therefore, the frame was made to look like very old unfinished beams.  This look can be achieved using a combination of a brown stain quickly applied and then wiped off, followed by a whitish-grey stain also applied and then quickly wiped off.  That gives the frame its weathered look.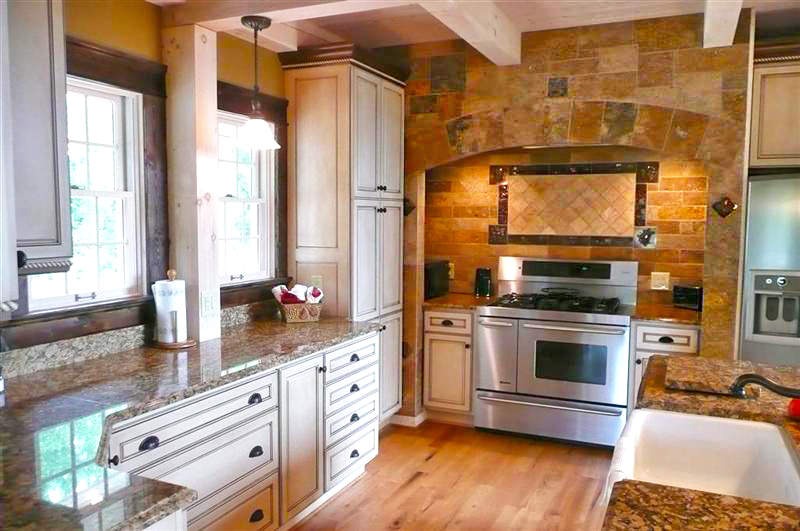 Finally, this post and beam frame has been finished in what is referred to as a pickling stain.  Some people also call the look "white wash".  Whatever you call it, it can work very well in a variety of home styles.  This look is especially popular for coastal homes and classic southern homes.  In this kitchen the beams work very well with the pale kitchen cabinets.  You can see that the clients here chose to use a dark wood stain on their window trim, which adds a nice level of contrast.
These are of course, just a sampling of the different frame options available to Timberpeg homeowners.  We pride ourselves on just how customizable our homes can be, so if you're dreaming of something unique – contact us.  We'd love to make it work for you.