One of the great benefits of a timber frame home is that the walls do not carry any load, so you are free to place walls wherever you desire and as few as you desire. Even in the most open concept house, however, you will be putting in walls for rooms like bathrooms and bedrooms. Although other wall choices are possible, drywall and plaster walls are the most common choices, so here are some points to help you decide between the two. One of the largest advantages of drywall over plaster is cost, which is mostly driven by the amount of labor required. Prices vary by market but expect a plaster wall to cost 40% to several times more than a drywall installation of the same size. Another advantage of drywall is that it is more forgiving of any movement in the building and cracks are easier to patch, so if you live in a seismically active area drywall may be the better bet.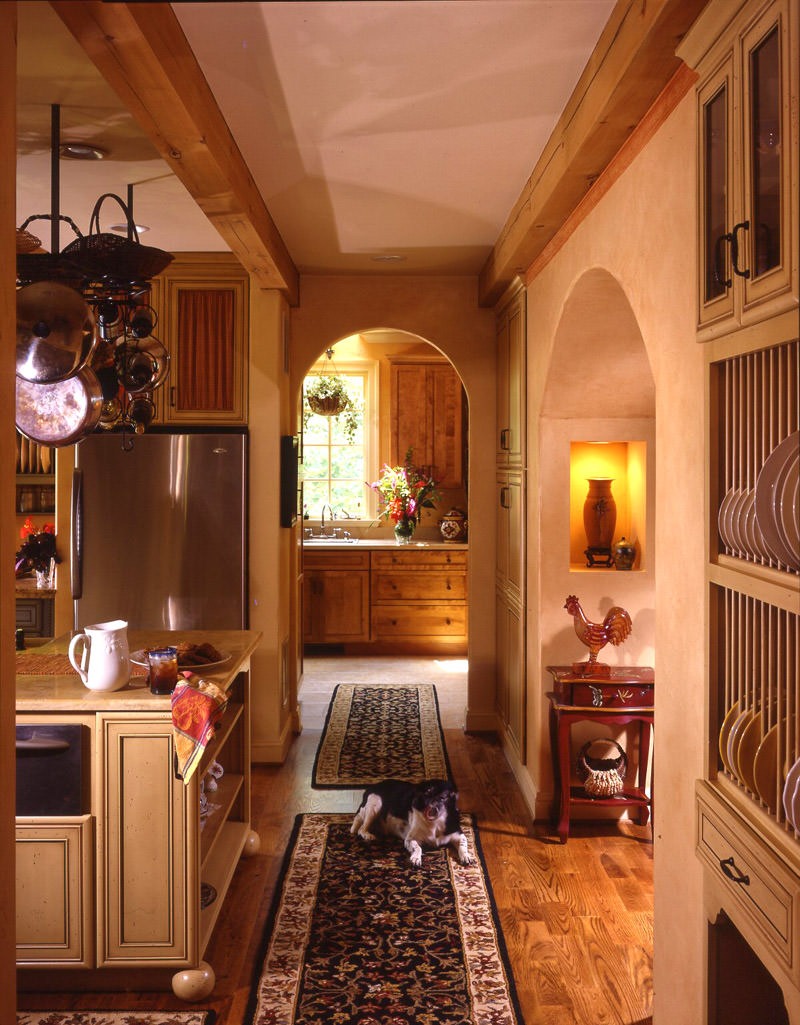 This timber frame house has the old world charm of plaster walls.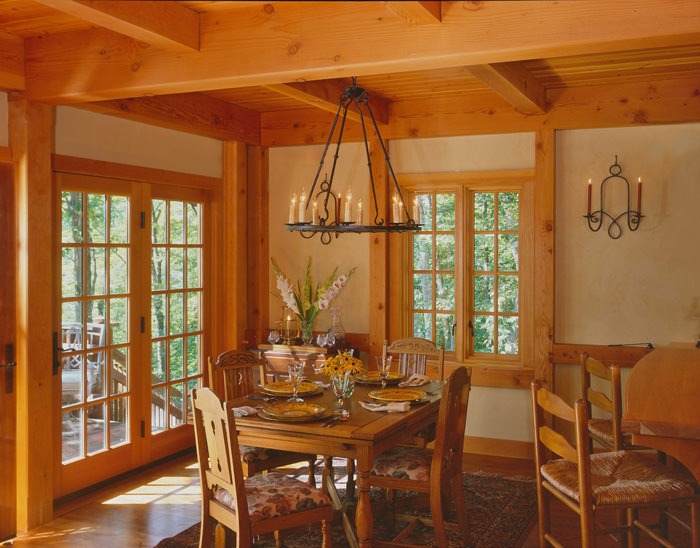 This timber frame home has plaster walls finished in a washed look. It's a soft and sophisticated look, but it does come at a cost.
Plaster is a harder surface than drywall, so it tends to make a more soundproof wall than drywall. Although this can be a benefit, it also means that plaster walls cause more of an echo within a room, so you will want to think more carefully about placing sound absorbing materials like rugs and curtains in a plaster-walled room.
The advantages of plaster over drywall are many. Since plaster is harder, it is much more resistant to marring, which can be a great thing if you have rambunctious kids or clumsy adults living in the home. Plaster is essentially impervious to water and lacks the paper medium present in drywall, making it a great choice in bathrooms and other wet areas. One of the greatest advantages of plaster is that it can be shaped into whatever form fits your needs. Drywall must be installed as a flat board, but if you want a curved wall or archway in your wall, then plaster can be the ticket to realizing that vision. What do you think?  Do you have a strong preference between plaster and drywall?  Is plaster worth the extra cost?  Leave us a comment and let us know what you think.  And, if you're looking to build a timber frame home (with plaster walls OR drywall) contact Timberpeg to learn how to get started.
Drywall on the walls for a quiet bedroom space.