Nestled in the rolling hills of western Massachusetts sits a house full of post and beam cottage charm.  While this home is larger than an actual cottage, at about 3,400 square feet, the abundance of details and architectural style make this feel like a true post and beam cottage.
Some of the architectural details (shown above) that really add to the post and beam cottage feel of this home include the steep roof pitch, rounded front door, small paned windows and the overall asymmetry of the home.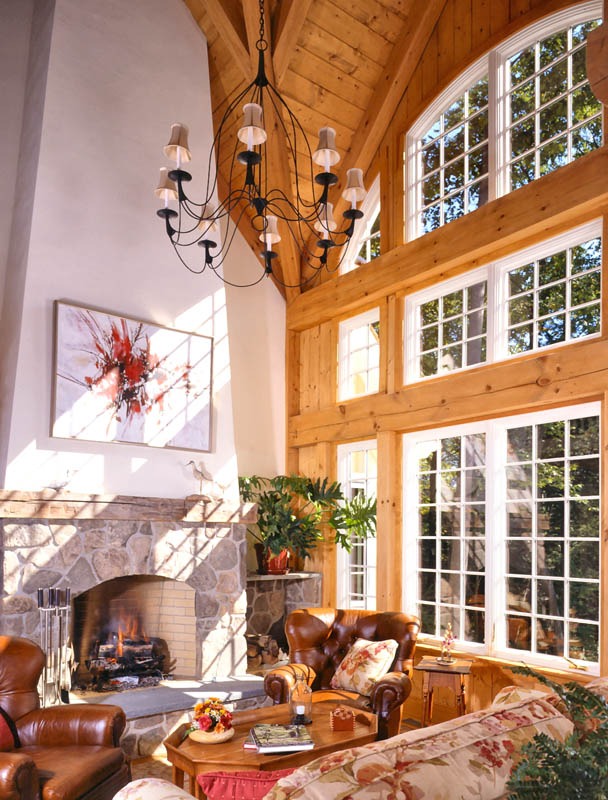 The great room of this post and beam home (shown above) is well lit and open thanks to the wall of windows and cathedral ceilings.  Choosing to finish the fireplace in stucco above the mantel, instead of continuing the stone all the way up to the ceiling, adds to the brightness of the room.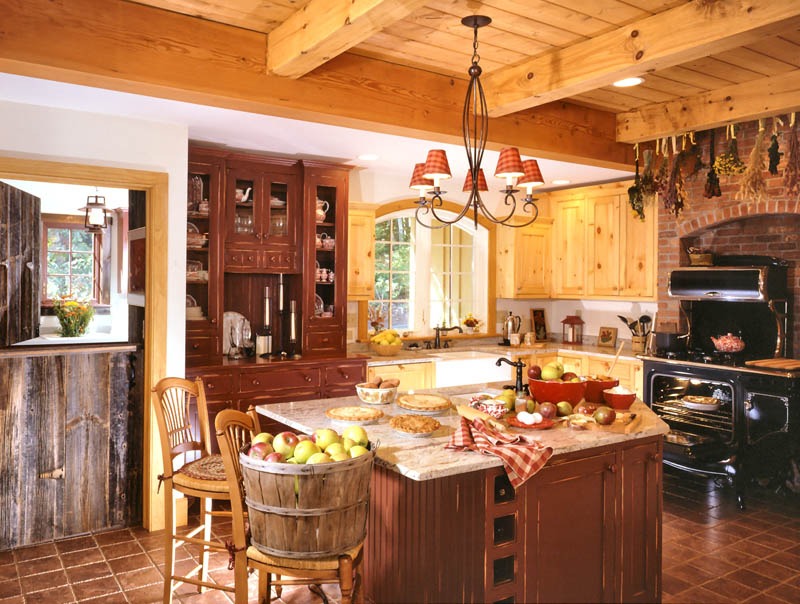 The kitchen in this post and beam home (shown above) continues to exude a cottage style aesthetic.  A dutch door made from old barn wood leads from the kitchen in to the mudroom.  The farm sink, with its porcelain front provides a crisp country feel.  The large piece of cabinetry to the left of the sink was designed to look like an antique hutch, but is really a part of the custom kitchen cabinetry.  The rough paint finish of the hutch is also used on the large kitchen island.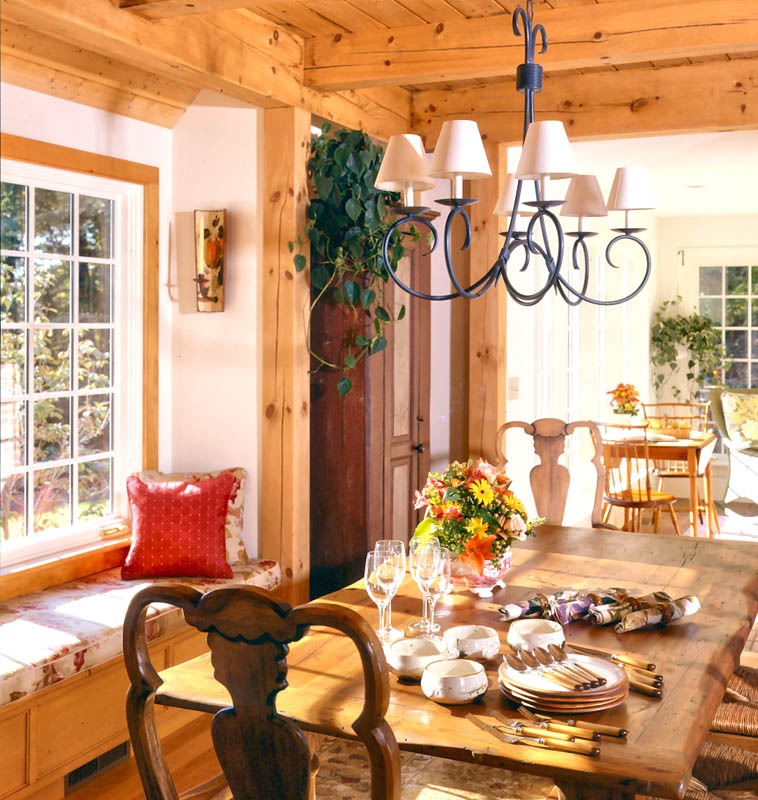 The dining room in this post and beam home (shown above) is open to both the kitchen and a sunroom.  You can see the sunroom beyond the dining table in the photo above.  An extra-large window with a built-in window seat provides even more light, and also an extra seating option for the dining table.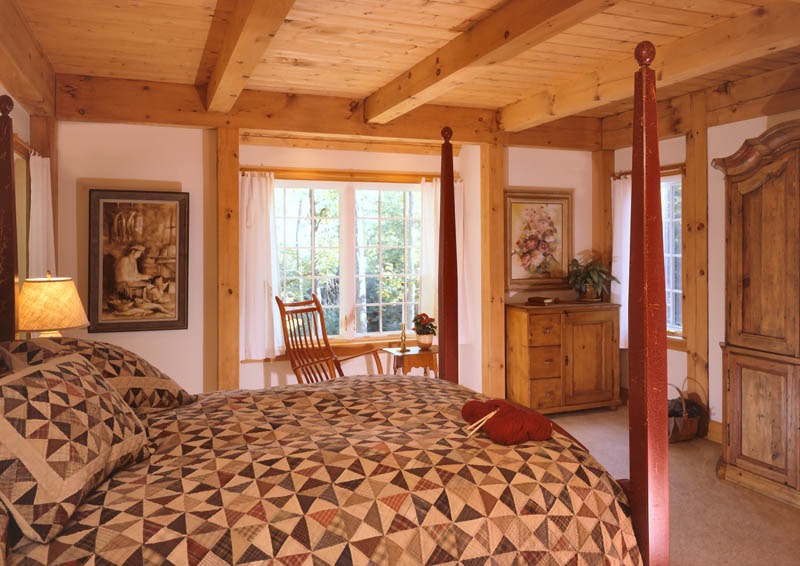 The bedroom in this post and beam cottage (shown above) is decorated with soft and muted warm neutral colors.  The four-poster bed has an antique paint finish which adds to the old world feel of this home.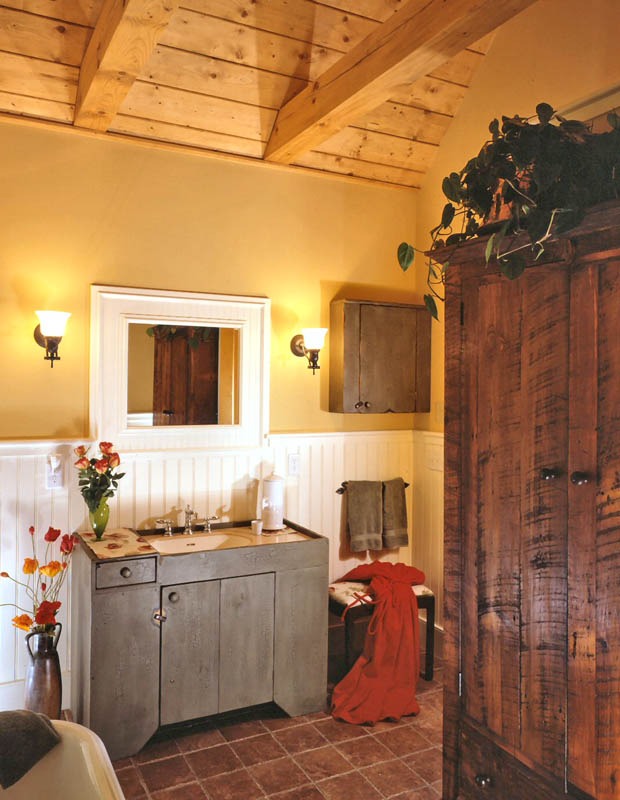 This bathroom (shown above) has a great antique charm about it.  The vanity looks as though it was made from old boards that have been given a gray wash.  The large armoire used to house linens has a similar re-purposed feel, but instead of a gray wash, this wood looks to has been finished with a rich, dark stain.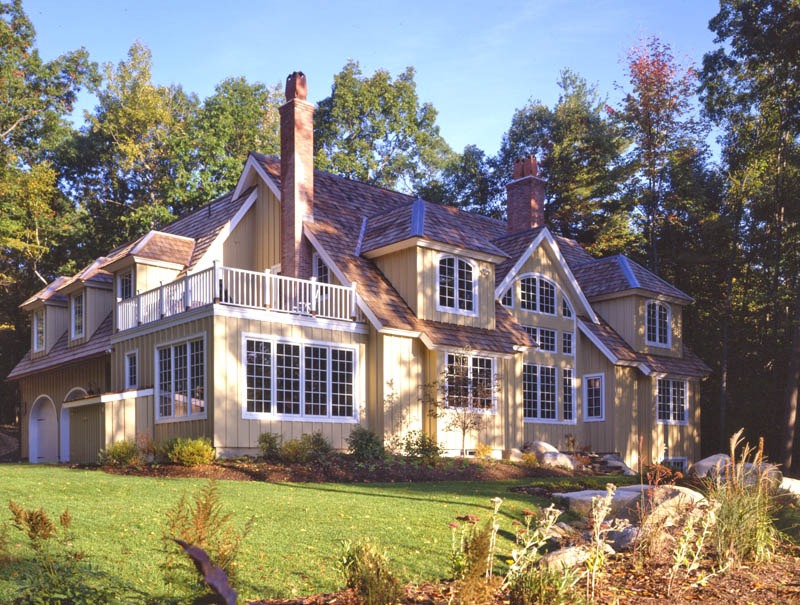 The rear exterior of this home reveals how grand this 3000 square foot post and beam home truly is.   With multiple dormers, small paned windows and an arch-topped window in the great room, which mirrors the arch of the front door, the overall look of this post and beam home is true cottage style.  If you'd like to learn more about this project, and/or see the floor plan for this home, please contact Timberpeg.