Since great interior lighting can provide a large boost to your quality of living, we have spent a great deal of time on this blog discussing modern choices and designs for interior lights that work well in a timber-framed home. Exterior lighting, however, has also seen great advances in recent years. Maintaining great lighting outside enhances both the security and visual appeal of your timber frame home. Here are some general tips to consider when planning your outdoor lighting for new or existing construction.
Consider Low and Line-Voltage Systems
While individual solar lights may seem convenient for lights away from the home, these types of systems do not work well. It is much better to run a wired system for remote lights, but you must choose whether a line or low-voltage system is right for you. A line-voltage system runs at normal household voltages, so it requires less material to run. The downsides are that the underground cable must be protected, which increases installation costs.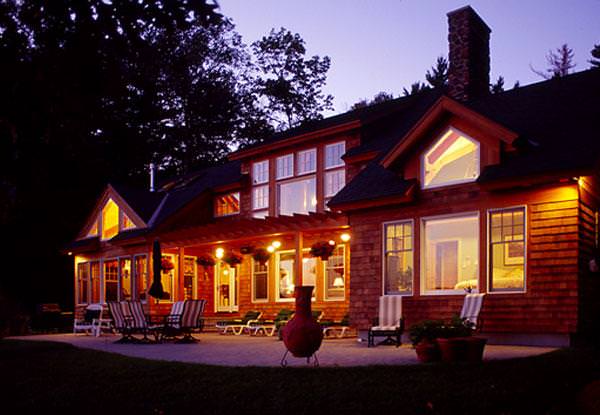 Home Designed by Timberpeg Independent Rep Timberframe Design, Inc./Samyn-D'Elia Architects – www.sdarchitects.com – Photos by Joseph St. Pierre – www.jsphotography.us
A low-voltage system runs at 12 volts, which means it requires transformers and thicker cables, which increases upfront costs. However, the cable can be buried directly and is an easy job for any homeowner, lowering installation costs. Also, energy-efficient lights like LEDs require fewer electronics on a low-voltage system, so they are cheaper to buy than their line-voltage equivalents. Which system works best for you will depend on your individual situation.
Don't Neglect Aesthetics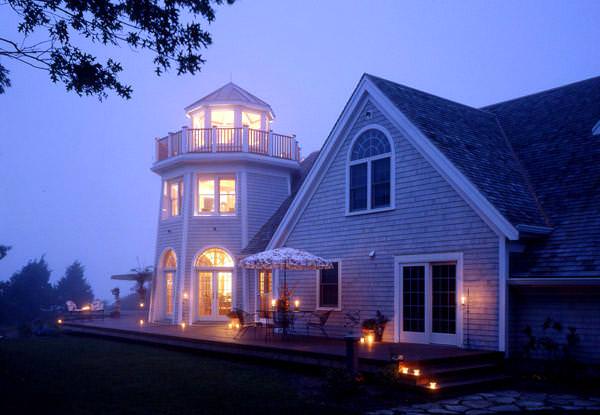 Even when using efficient lighting, you can and should tailor the fixtures to your home's design. While wall-mounted lamps are the most well-known, flush-mounted and pendant ceiling lamps are also available in waterproof, exterior versions. All of these choices are available in a multitude of styles from rustic to modern, to fit in perfectly with any timber frame home.
Consider Deck and Stair Lights
One of the best ways to use lighting efficiently is to only light the areas that need illumination. Stair lights, for example, install in the rise of a stair and illuminate the step below. By providing a small amount of light to this critical area, you can provide safety without over illumination or expensive power bills. Similarly, lights are available for balusters and the under-side of rails, allowing you to provide a safe and visually appealing light defining the edge of your deck while still allowing you to see the stars at night.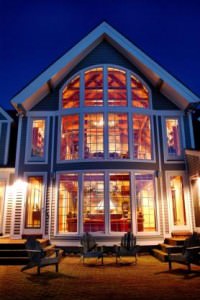 Use Full-Cutoff Lights

Lights that point skyward are wasting energy and cause light pollution. To combat this, use full-cutoff lights that direct all of their light below the horizontal. By directing the light downward, you are only illuminating areas that need it while also reducing glare and energy use. If you're thinking about an upgrade to your home's exterior lighting, it definitely is a great time of year to make some tweaks.  Not only is the weather still nice for working on installation, but you still have time to make your upgrades before the fall equinox and the nights get longer and longer.  If you have any questions about the timber frame homes featured in this post, please contact the team at Timberpeg to learn more.