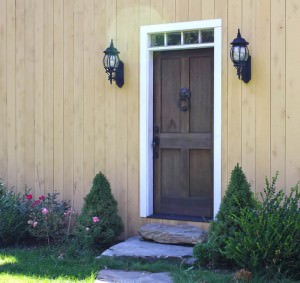 Since your front door is the gateway to your home, it creates a first impression that defines your home to residents alike. Due to this important role in defining the home, it is no wonder that front-door replacements are consistently the home renovation project with the highest return on investment. With the many choices in exterior doors, just selecting the perfect door can be a daunting task. If you are considering replacing an aging front door or choosing the perfect door for your new Timberpeg home, here are some tips for choosing the best door material for your needs.
Wood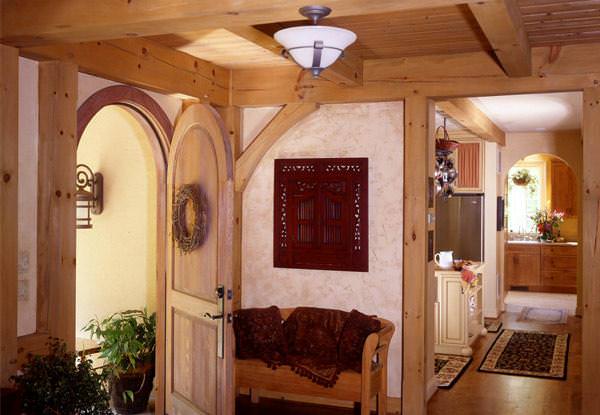 The three most common materials for exterior doors are wood, steel, and fiberglass. Wood doors are the traditional choice, and their natural appearance and warmth are a perfect match for the timber frame home. Modern wood doors with engineered lumber centers are much less prone to swelling than solid wood doors, and wood doors are much easier to retrofit into existing frames than steel or fiberglass. The downsides to wood doors are that they need more maintenance than the other materials and are also less insulated. A wood door typically has an R-value of around 2, while steel and fiberglass doors are typically 5 or 6.
Steel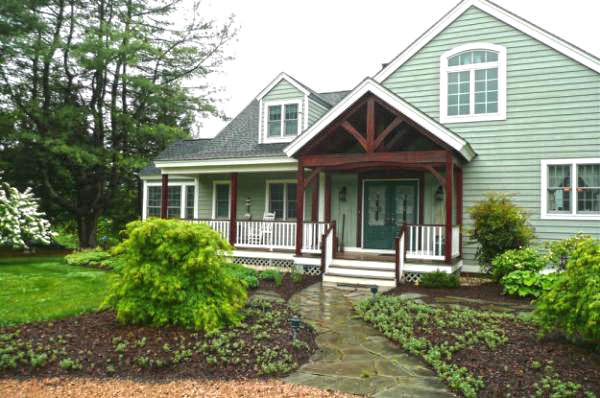 Steel doors are the most commonly purchased exterior door since they are the least expensive option. These doors have a steel exterior with a foam core for insulation. While they are both inexpensive and insulating, steel doors lack the character of a wood door. Furthermore, steel can get quite hot in the sun and any dings in the coating can allow the door to rust. Also, while steel and fiberglass doors are more efficient than wood doors, any windows in the door will diminish the door's insulating ability.
Fiberglass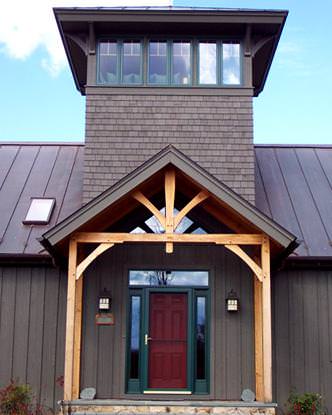 Fiberglass doors can evoke the feel of wood while being much more energy efficient and lower maintenance. Typically, cleaning the door with a damp cloth is all that is required. Fiberglass doors can be ordered with a smooth finish for painting or can be ordered with a desired wood grain pattern to match a particular tree species. While these doors are low maintenance, installation can be trickier since the opening must be square and many fiberglass doors cannot be trimmed. Another drawback is that fiberglass doors are much less customizable than wood doors. Fiberglass doors must be constructed in a mold, so you will be limited to factory-available appearance and options. Outside of the basic material choices for your home's front door, there are almost limitless style options to consider as well.  We'll plan on highlighting some of the most popular styles of doors for timber frame homes in a coming post.  If you have any questions about the project featured here or would like to learn more about designing a timber frame home of your own, please contact Timberpeg today to learn more.