With the "big game" only a week away, we are fast approaching one of the most-watched television events of the year. And while none of us wants to admit to being couch potatoes, we know that the average American watches around three hours of television a day. Even so, there are some design issues for a television room that are especially important to consider in a timber frame home. Here are a few of the most important suggestions for building a comfortable television space.
One of the most important considerations in planning a television space is mounting the display at the proper height. As a general rule, the center of the screen should be mounted at the same height as your head while seated. If you expect people to be watching while standing as well, then it is easier for them to look down than for those seated to look up.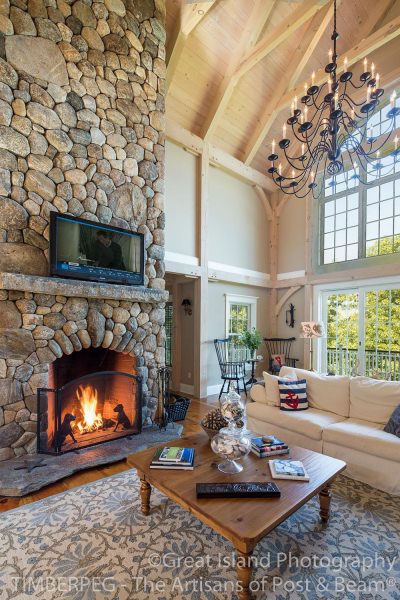 Although this seems like an easy rule to follow, the common presence of a fireplace in a timber frame living room or great room can make television placement difficult. The fireplace is often the focal point of the room and we are tempted to mount the television above the fireplace to keep it at the focal point as well. This should be the last option considered, however, because the television will be far too high. Instead, consider mounting the television to the side of the fireplace or instead focusing the room on the television with the fireplace defining a corner of the room. When designing a home, our designers can work with you to create a living space that is great for both television viewing and cozy fires.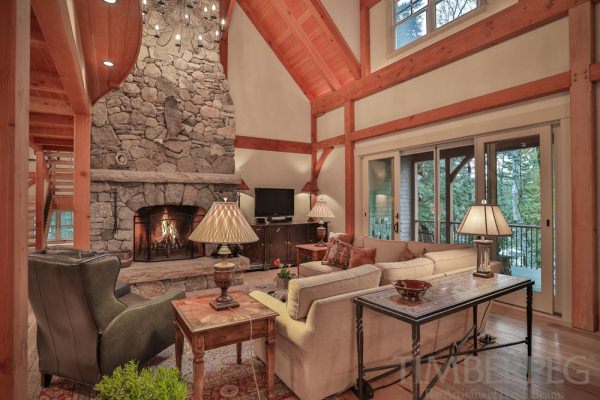 Although we are constantly bombarded by ads for new televisions, the truth is that most new features are of limited value to the average viewer. (For example, 3D televisions were supposed to be the next big thing but all major manufacturers are discontinuing them by the end of this year.) For sizing a television, movie experts will tell you a screen that fills 40 percent of your vision is ideal, which means a whopping 90-inch screen if you sit 10 feet away. For more casual viewers, the largest screen that fits your space will suffice.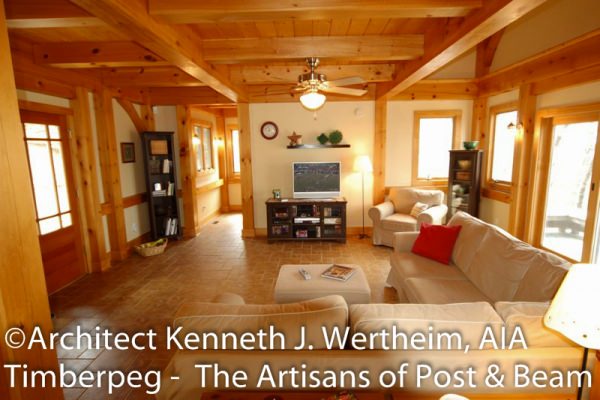 When creating your viewing space, you should also think about the audio environment. For many, the built-in television speakers may be sufficient. However, movies will especially benefit from a surround sound system. It is easiest to install the wires for remote speakers when the room is first constructed. If you do not want to run wires, then a soundbar can often provide a great improvement while remaining a compact solution. Be sure that your space uses area rugs and other fabrics to dampen sound reflections from the speakers.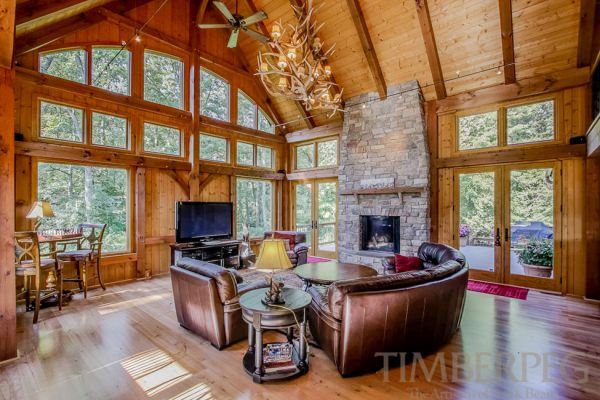 We hope this guide will help you create the perfect viewing experience for football season and beyond. If you have any more questions about timber frame home design, please contact Timberpeg to learn more.