For as long as we can remember, the goal with kitchen cabinets has been to have all of them match in style and color. Recently, however, it has become trendy to have mismatched colors on your kitchen cabinets. One version of this trend is to have a darker color or stain for your lower cabinets and a light stain or white-painted upper cabinets. In this post, we will instead look at some Timberpeg homes where different zones in the kitchen use different colored cabinets.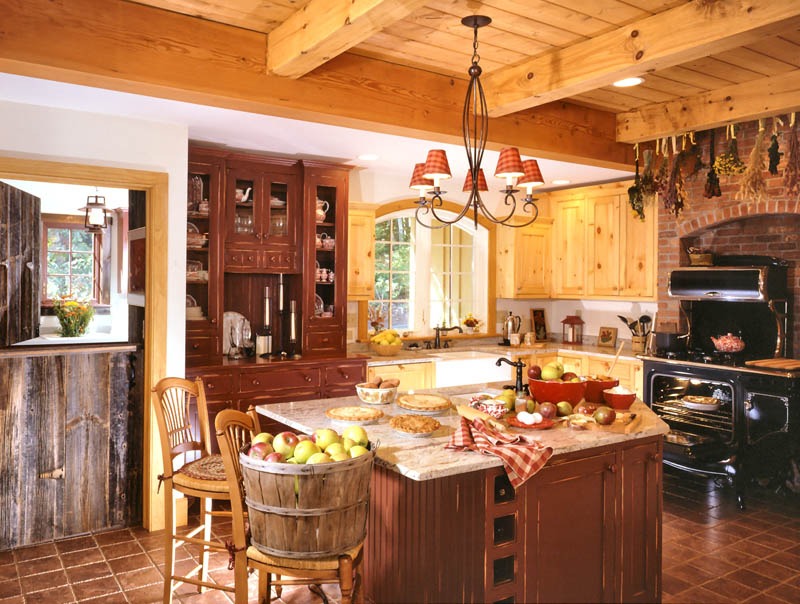 This first kitchen comes from a Timberpeg home in Florence, Massachusetts. Most of the cabinets have a light stain to them, matching the color of the posts and beams. However, the china cabinet at one end of the kitchen has a much darker stain. Not only does this help the china cabinet stand out, it also suggests that the cabinet is an older piece than the rest of the kitchen. As with many such designs, the island is also painted to match the china cabinet. The Dutch door and antique wood stove oven also hint at this home's blend of new and old charms.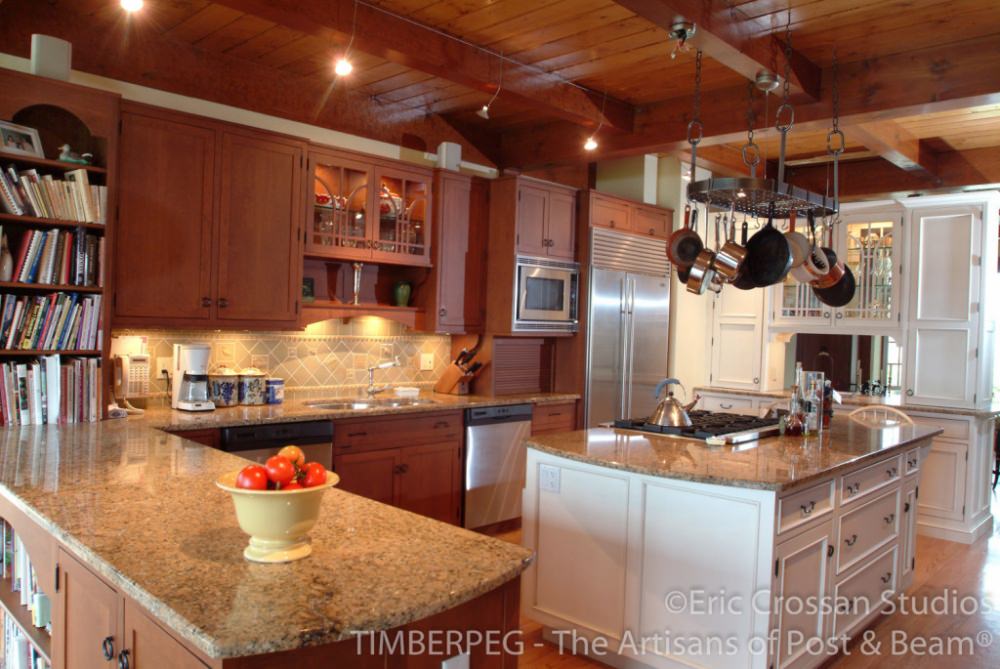 Our next home in Maryland takes a similar approach but reverses the color scheme. Here, all the pieces are modern and the predominant cabinet color is a dark stain. However, the china cabinet at the end of the kitchen and the island are painted bright white in contrast. The sandy granite countertops provide a nice match to both the light and dark cabinetry.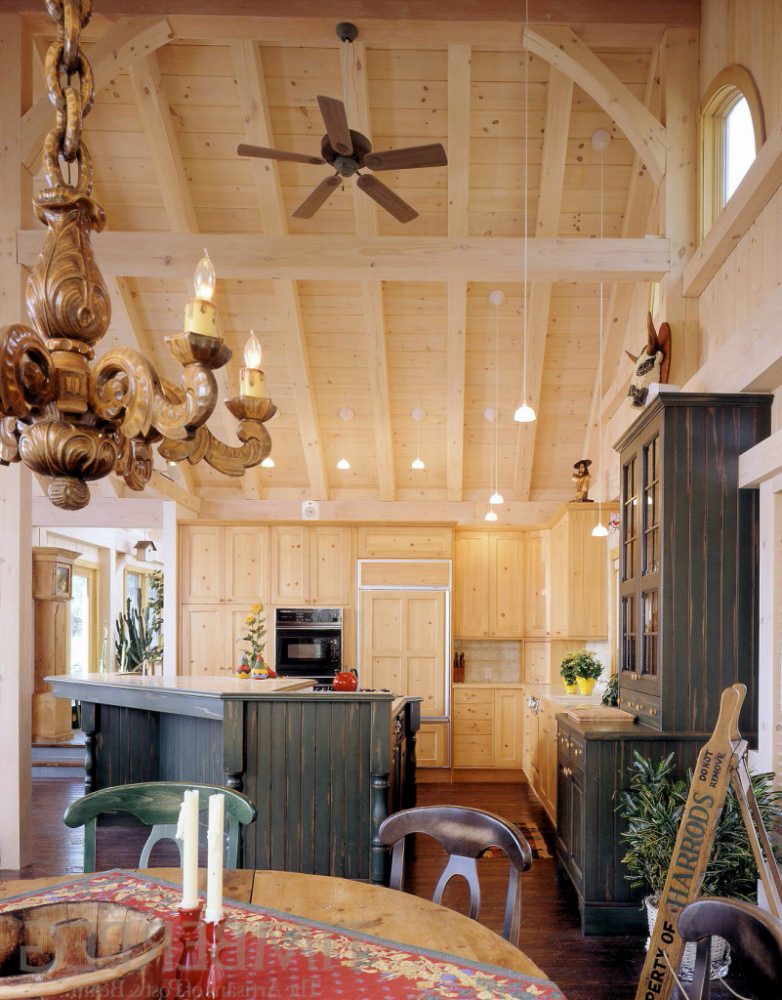 While a light stain/dark stain or white/black contrast is a very popular choice, there are many more options for mismatched cabinet colors. This Colorado Timberpeg uses a predominate light stain on the cabinets, while the island and nearby hutch use a deep green color. This green echoes the home's exterior trim as well as the surrounding forests. In general, earth-tone cabinets are a more popular choice than brighter colors.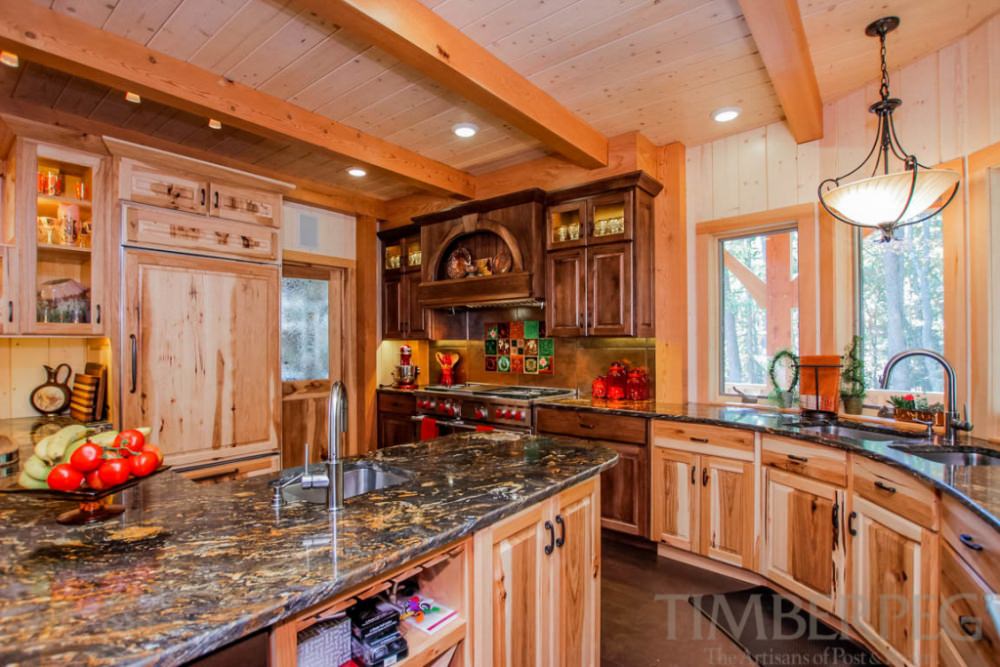 Our final home in Maryland uses a dark stain on the cabinets around the oven, while a clear finish is used elsewhere. Despite the counter wrapping around the exterior wall of the kitchen, this dark finish serves to visually separate the stove from the rest of the kitchen without physically separating it. Furthermore, the clear finished cabinets are anything but ordinary, with their hickory boards providing interesting coloration and grain patterns throughout the kitchen.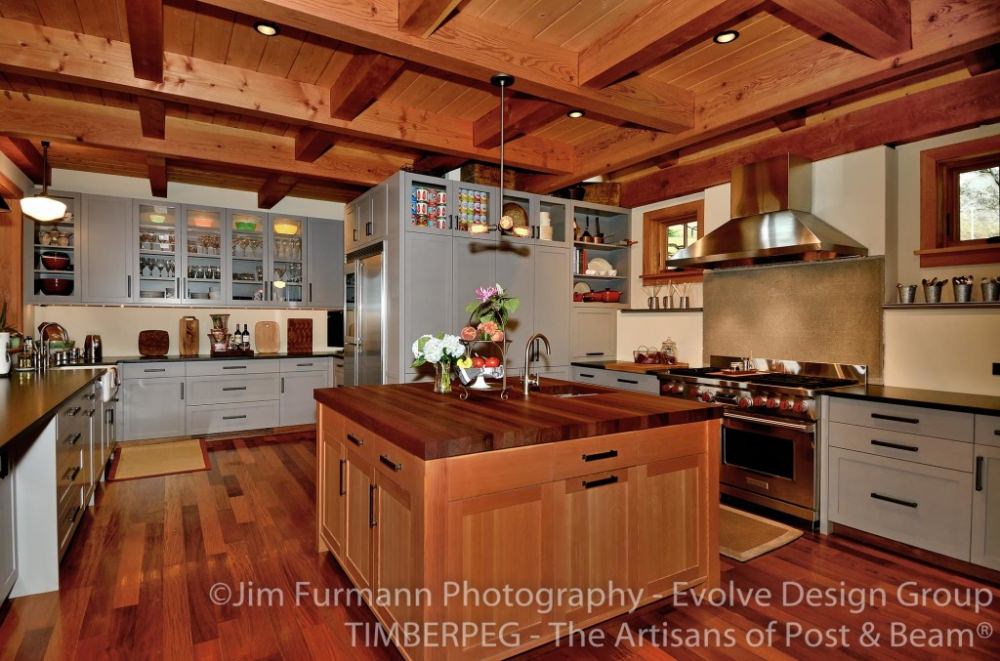 We hope you've liked this look at some of the trendy kitchens that employ non-uniform cabinets. If you're looking for a new timber-framed kitchen, with or without uniform cabinets, please contact our team today.