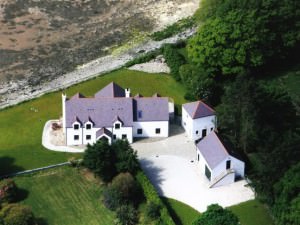 When one thinks of modern architecture, a timber-framed home is undoubtedly not the first image that springs to mind. Rectilinear high-rises of glass and steel and homes with steel structures and cantilevered upper floors might be some of the first thoughts we have. Modern architecture, however, was a very expansive movement with many different stylistic elements. Despite the common perception of modern architecture, many of its central themes can be accommodated in post and beam construction. Below, we'll discuss these themes and how a Timberpeg can be the perfect modern home with a hint of traditional charm.
Although not all historians agree, a commonly-held position is that the modernist aesthetic was primarily a reaction to the excesses present in the Victorian and Edwardian architectural styles. For this reason, modern architecture stressed simplicity and advocated the elimination of unnecessary detail. This ideal is perhaps most succinctly expressed in Louis Sullivan's dictum that "form follows function," meaning that architectural design should be dictated by a building's intended use.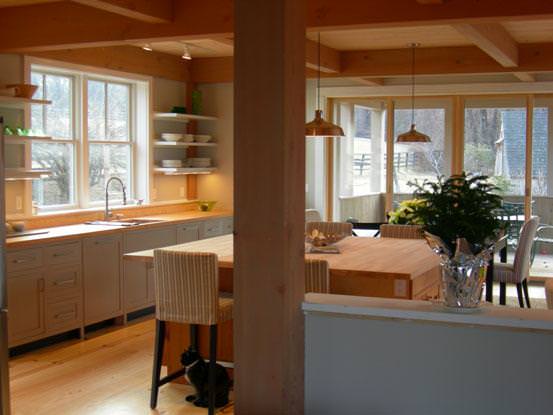 Home Designed by Timberpeg Independent Representative, Erich Diller of Evolve Design Group
Modern architecture also places some demands on building materials and their use. Rectilinear designs were preferred, with structural materials positioned at right angles to one another. Modernism also opposed disguising or enclosing structural elements, insisting that they be featured as part of the design. Furthermore, modernists developed the tenet of "truth to materials," that materials should be used where most appropriate and presented in their natural appearance. With these guidelines, it is apparent that even a post and beam home can be constructed in a modernist style. If you are looking for a structure devoid of "unnecessary detail," then you can choose a frame without diagonal brace members. This allows for strictly vertical posts and horizontal beams to show through and embrace the modernist preference for structural materials oriented at right angles. Naturally, a timber framed building does not hide its structural members but instead showcases them as a highlight of the house's décor.
Home Built by Timberpeg Independent Representative, Lake Anna Timber Homes – lakeannatimberhomes.com
One aspect of the "truth to materials" ethos involves leaving marks from construction processes intact. For example, a concrete structure will not be painted and imprints from the formwork used when pouring the concrete are not sanded off. Here again, a post and beam construction allows you the freedom to follow this ideal if you so choose. Timbers can be left un-sanded or can even be hand-hewed to showcase their method of construction. If you would like to learn more about any of the projects featured here, or how you can begin working with our design team to craft a modern timber frame of your own, please contact Timberpeg to learn more.