Two years ago, we wrote posts discussing the Cape Cod and Craftsman-style homes. While these are undeniably popular timber frame home styles, we have yet to touch on the farmhouse style in general. While we have featured many farmhouse homes on the blog, we thought now would be a great time to explore what features define a farmhouse-style home.
As the name implies, farmhouses originated as dwellings on a farm. Typically, these homes were side-gabled buildings. Since early farmhouses were small, this arrangement makes the home appear larger for its size than an end-gabled design would. The house plan was also typically a simple rectangle, which allowed for ease of construction as well as future expansion. The roof can either be a simple-pitched design or a gambrel design. Beyond the roof design, the most distinguishing feature of a farmhouse design is the prominence of the porch. On a working farm, the porch was very functional. It allowed dirty boots to be left outside the home, and also served as a great outdoor entertaining space. Especially in the days before modern insulation or air conditioning, the porch was a preferred gathering space in the evenings. For these historical reasons, a large and preferably full-length covered or enclosed porch is a defining feature in a farmhouse design.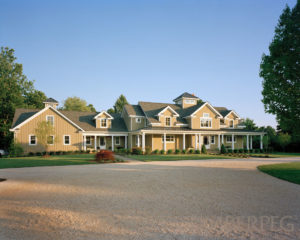 Although modern farmhouses can be larger, they should still have an end-gable roof and a prominent porch.
The floor plan of a traditional farmhouse keeps the formal rooms in the front of the building. The kitchen is in the rear of the home, along with any private first-floor rooms. In the traditional farmhouse, the formal dining and sitting areas are divided by walls from the kitchen and remainder of the home. Bedrooms are typically in the second floor. Since the roof usually is highly pitched, dormers are used to provide light to the upstairs spaces through double-hung windows.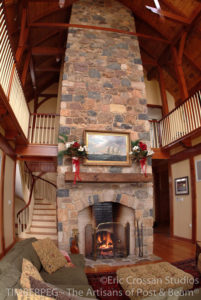 Farmhouses are commonly held to have a "sturdy" appearance. This feeling extends inside as well, where the sitting room centers on a robust fireplace. While every home can use a great fireplace or woodstove, an impressive fieldstone fireplace is the best fit for a farmhouse design. The robustness of the building is only further enhanced by the prominent display of its posts and beams. On the outside, wide siding helps further the durable aesthetic. If you would like to build a farmhouse of your very own, please contact Timberpeg today.