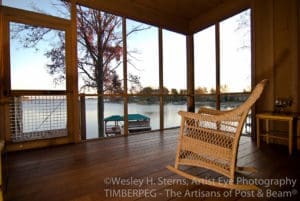 This time of year, in most of the country, we gain around two and a half minutes of daylight from one day to the next. Coupled with the improving temperatures, outdoor space becomes an increasingly tempting place to spend your time. At Timberpeg, many of our clients elect to have screened porches or other outdoor space built as part of their homes. Whether you have a simple porch or something more elaborate, here are some tips for sprucing up your outdoor space to make it an even more special place to spend these great spring days.
Add a Fireplace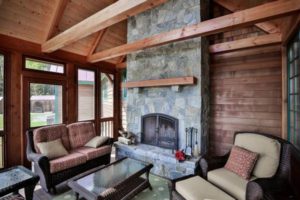 While the daytime may be the perfect temperature to spend outdoors, nights can still be chilly enough this time of year to send you back indoors. If you want to extend your time outside without enclosing the space, consider adding a fireplace. This is a perfect addition to a screened porch (such as the screened porch shown at left) or patio that adds to both the usability and visual appeal of the space.
Or Maybe Some Ceiling Fans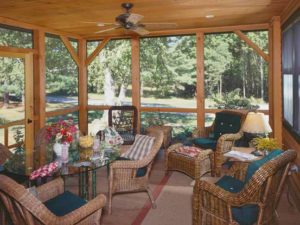 If you live in a warmer climate or are planning ahead for the summer months, then keeping your outdoor space cool can also be a challenge. Whether your outdoor space is enclosed or not, adding ceiling fans can help keep the space comfortable. Although the roof over your space will provide some protection from the elements, make sure you buy a fan rated for outdoor use.
Install Speakers to Take the Party Outdoors
With the ubiquitous wireless networking available these days, whole house audio systems are more popular and affordable than ever. While this can be great for entertaining, you don't want to confine your party to the indoors when you have such a great outdoor space. By extending your sound system outside, you can seamlessly play the same music inside and out. Again, you should make sure to install outdoor speaker systems that can withstand the rigors of weather.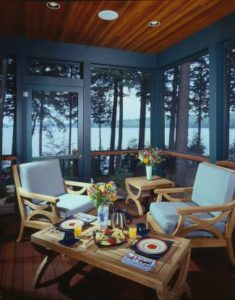 Paint the Ceiling a Unique Color
Outdoor ceilings have been traditionally painted blue, and this tradition has a disputed history. Some say that the practice was meant to confuse bugs into thinking that the ceiling was the sky so they wouldn't nest there. Others simply hold that the sky-blue color was meant to be calming and reflect the room's location outdoors. Of course, it's sometimes more fun to break the rules and part with tradition. That's what the owners of the timber frame home shown at right did when they chose a rusty orange color for the ceiling of their screened porch. In any event, painting your space's ceiling is an inexpensive way to add charm to the room. And, if you do want to keep bugs out, we suggest screening off the space to be a much better bet than relying on a "faux" blue sky.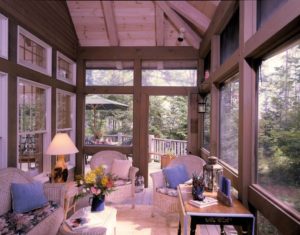 Unlike many of the spaces featured above, this porch features a full timber frame. The darker, natural, weathered stain reflects the natural wood that's likely to be seen on outdoor trees and is a great contrast to the white-washed wood on the ceiling. 
If you'd like to learn more about any of the homes featured here or learn how to get started on a design for a timber frame home of your own, please contact Timberpeg to learn more.