We hope you all had a fabulous time celebrating America yesterday! What makes all of the post and beam and timber frame homes we feature here even more terrific, is the fact that they are all manufactured in the USA! This week we'll be featuring a gem of a home in east-central Vermont. It's a timber frame carriage house nestled in the trees on beautifully sloped land.
Since all build sites are unique, it's crucial to keep in mind how your site will work with the type of home you're interested in. The Plymouth carriage house has a fantastic walk-out basement, while the front of the home sits high on the sloped site.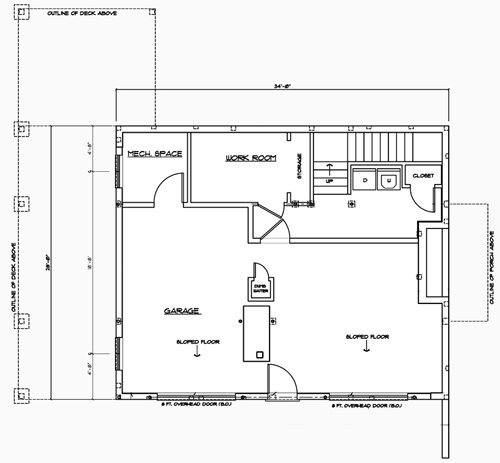 Timber Frame Carriage House Floor Plan – Basement
The garage-level floor plan shows how versatile a timber frametimber-framedd home can be. While the homeowner chose to use some of the garage as car storage and workshop, you could certainly turn most of this area into a children's playroom or guest bedroom quarters.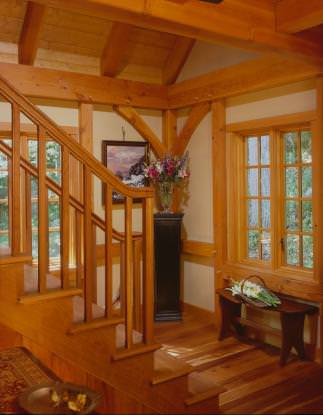 Timber Frame Home Entrance Foyer
The foyer in a timber framed carriage house demonstrates the craftsmanship that goes into this type of construction. The wood used here is one of the highest quality wood species, Douglas fir, and the homeowners chose a natural stain for their Vermont home.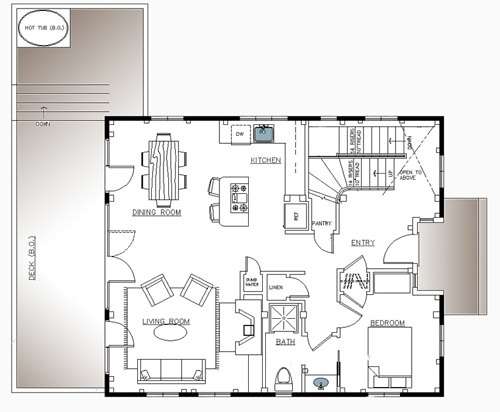 Timber Frame Carriage House Floor Plan – First Floor
The home totals 1600 sf of living space and when looking at the layout, you can see how the designers were able to make a truly fantastic plan wrapped up in a moderate size home. We've noticed that first floor bedrooms are becoming extremely popular, and the Plymouth boasts one that could be great used as a guest bedroom.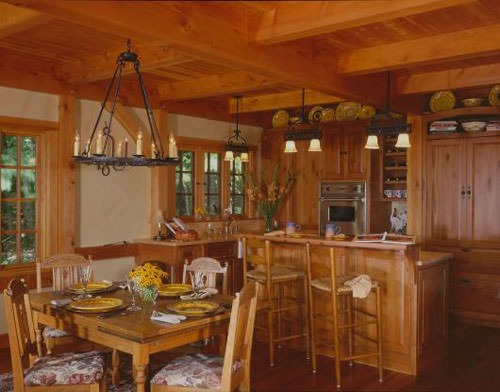 Timber Frame Custom Kitchen
This custom timber frame kitchen marries traditional designs and furnishes with rustic elegance. The tongue and groove ceiling stands up next to the Douglas fir frame. The duo creates a canopy effect in the kitchen and the glow from the ceiling makes the room feel amazingly cozy.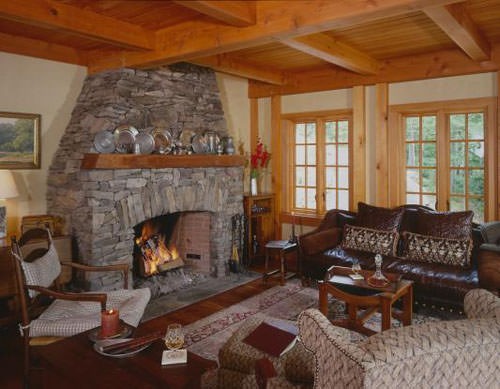 Timber Frame Living Room
The timber frame living room stuns with the focal point on the custom stone fireplace.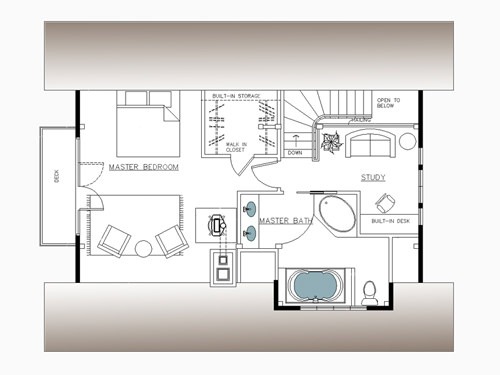 Timber Frame Carriage House Floor Plan – Second Floor
A second-floor master suite dominates the Plymouth home and makes it truly unique. The entire second floor is dedicated to the homeowners and displays a sprawling master bedroom with large walk-in closet, deck and study area.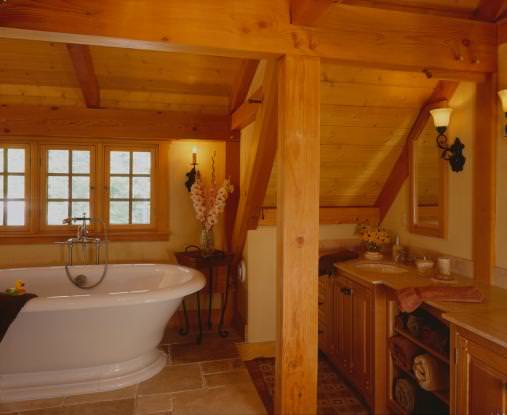 Master Bath
A gorgeous pedestal tub sits atop the custom flagstone floor in this timber frame master bath.