As its name implies, the chandelier started out its life as a holder for many candles. The earliest chandeliers were only found in the wealthiest of homes and were so expensive that they were actually moved from room to room rather than being fixed pieces. Over time, chandeliers became more common and less expensive, and are now to the point where many homes have them. Here are some tips for selecting the perfect size chandelier for every space in your timber frame home.
The size of your chandelier is going to depend on the size of the room it is in as well as the function of the room. For an entryway, the usual rule for the diameter of a chandelier is to add the dimensions of the room and divide by 12. In other words, if you add the width and depth of a room together in feet, this is the ideal diameter of your chandelier in inches. For the height, most guides recommend 3 inches per foot of ceiling height, with the chandelier at least 6 ½ feet above the floor. Since this is still a bit cramped for tall people, entryways with tall ceilings are best for chandeliers.
Great rooms and living rooms follow a similar rule for the diameter of a chandelier. In terms of placement, centering the fixture in the room is a good choice. Often, this makes placing the chandelier above the coffee table the ideal location. For height, since great rooms see more traffic than entryways, keeping the chandelier at least 7 feet above the floor is a wise precaution.
A dining room is a natural fit for the chandelier since the charm and stateliness are most appropriate here. In this case, the fixture should be sized to your table. The diameter of the piece should be around half the table's width, or should at least be one foot narrower than the table. For a rectangular table, you can use a chandelier that is wider along the long axis of the table. The chandelier should be at least 30 inches above the table at its lowest point, so that you and your guests can see each other.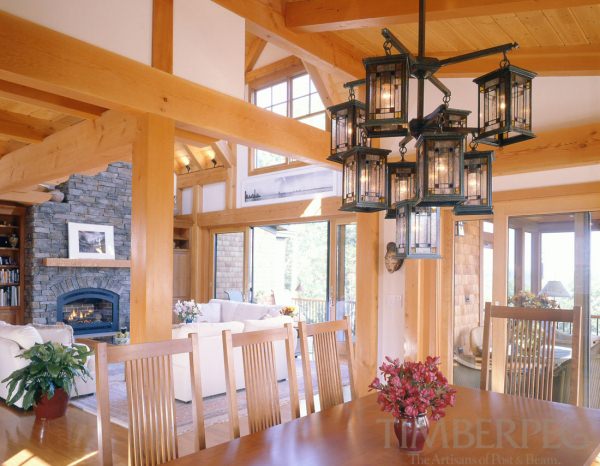 Recently, it has become popular to even have chandeliers in the bathroom. The size can vary, depending on placement. If placed over the tub, then a smaller chandelier may be used than if one is placed in the center of the bathroom. However, a chandelier over a tub should provide at least 8 feet of clearance below, since you need more space to get into and out of the tub. Needless to say, this is only a good idea for a stand-alone tub, and not a tub/shower combination!
We hope this guide has helped you pick out a great chandelier for any space in your home. If you liked any of these homes with chandeliers or are looking to build a great timber frame home with plenty of chandeliers, please contact Timberpeg today.