It took the homeowners of this beautiful timber frame home over five years to find the perfect piece of land on Candlewood Lake in Connecticut.  Once they found their dream lot with stunning views, mature trees, and impressive rock overcropping, the couple knew they had to find the right kind of home to fit with the land.  The result of their careful quest to build a home in tune with the land is this stunning, yet relaxed lakeside, timber frame home.
The rear of the home boasts a wraparound deck ideal for lounging and enjoying the spectacular views of the lake.  There is also a covered screen house to enjoy during drizzly weather or when bugs prove to be a nuisance.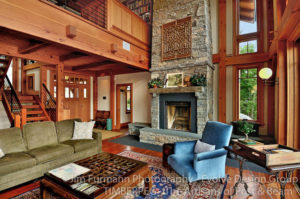 The front door of the home leads into a small entryway that is open to the great room.  Open tread stairs lead to the loft/balcony above.  Timber floor beams protrude from the balcony and have been left in their natural square form, a style, borrowed from Japanese architecture, which adds to the simple elegance of this home.

Inside the home's great room, you can see how the wall of windows takes in the light and views of the lake beyond.  The home's decor is a unique blend of classic early American style, as seen through the 'sack back' Windsor chair above, and Asian style.  The Asian flair extends beyond the coffee table to the artwork on and above the mantel.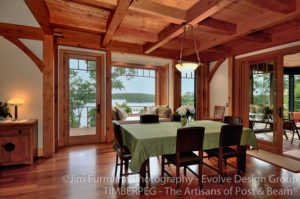 The Asian motif is carried through from the great room into the dining room with the medallion element on the small cupboard at the left in the above photo.  The dining room opens to both the deck, and the screen porch.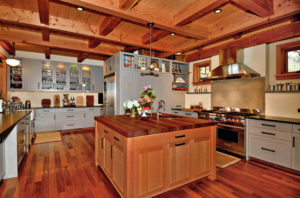 The kitchen, which opens to the dining room, features a large central island.  The island is finished with natural wood tones and a butcher block top.  This contrasting treatment, combined with the feet the island has, makes it feel more like an additional piece of furniture in the room than an extension of the cabinetry.
We hope this wonderful lake home has you dreaming of the summer days to come.  If you have any more questions on this timber frame home, please don't hesitate to contact us.