At Timberpeg, we are proud of our dedicated network of Independent Representatives. These individuals and companies use their experience in the home building industry to help clients build the timber-framed homes of their dreams. Some of these Independent Representatives have experience as builders or contractors, while others are architects and designers. In this post, we will highlight two Independent Representatives whose experience as an architect or designer helps them design unique Timberpeg homes.
Tom Samyn always enjoyed drawing, drafting, and problem-solving as a child, so a career as an architect was a natural choice. After working with Ward D'Elia in the 1970s, the two decided to form their firm (Samyn-D'Elia) in 1980. Soon thereafter they decided to become Timberpeg Independent Representatives, reasoning that "Timberpeg was a good fit for us because we're architects who provide quality home design in an area that finds the timber frame structure both attractive and energy efficient." Given their tireless work to satisfy their client's needs, it is no wonder that Samyn-D'Elia is still an award-winning architectural firm over thirty years after its founding.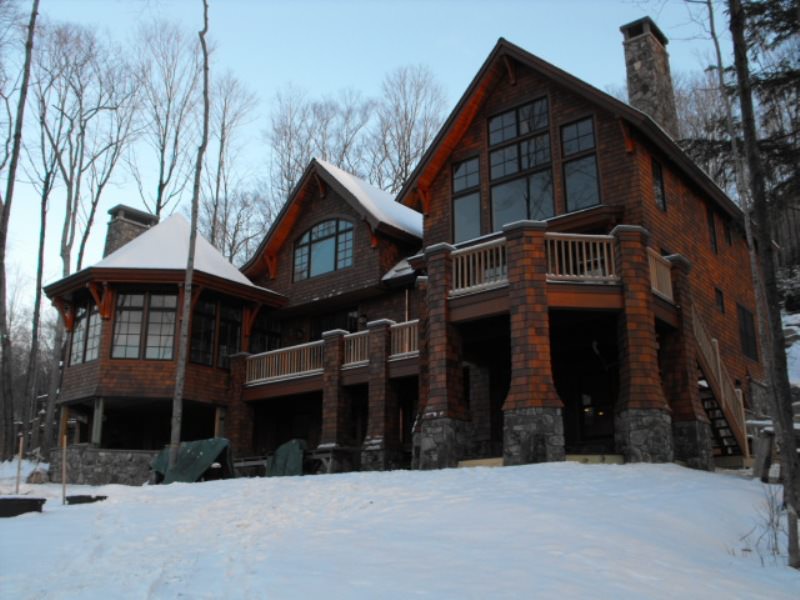 One project that exemplifies their problem-solving is a Timberpeg ski lodge outside Lincoln, NH. From the front of the house, a curved porch and curved reading room show the detail that went into the plans for this winter retreat. The house also has a complicated roof structure, with more gables than you would find in a Nathaniel Hawthorne novel title. The structure was also built into the side of a ski hill, with an elevator turret and covered bridge for direct access to the slopes. While this project would be a daunting task for any architect, their great experience and skill made Samyn-D'Elia the right choice for the job.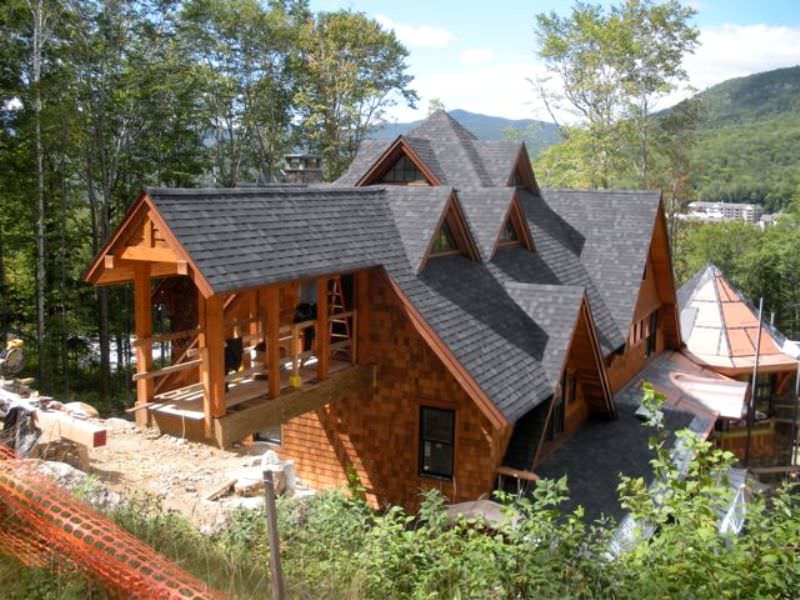 Erich Diller's background influences the unique perspective he brings to home design. Erich grew up in England and his family would take holiday excursions everywhere from Scandinavia to Egypt. Bolstered by three years of high school architecture classes, Erich went on to earn a degree in architecture. He found his way to Timberpeg when looking to build a barn on his property and has been an independent representative since 2005.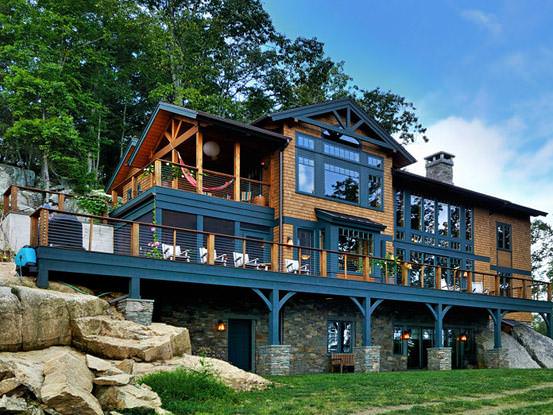 Home designed by Timberpeg Independent Rep Erich Diller, Evolve Design Group. Photo by Jim Fuhrman. Built by Blansfield Builders.
Erich's penchant for bringing modern touches to traditional timber frame construction is wonderfully demonstrated by the "Split Rock" house on Candlewood Lake in Connecticut. The house is set on the side of a cliff and pays homage to the Arts and Crafts movement but with modern touches. The exterior trim and posts are painted a steel blue, combining a modern feel with the softness of the wood. Inside, the rooms vary in their appearance. The living spaces maintain a traditional look, while the kitchen seamlessly blends traditional wood tones with modern cabinets and stainless appliances. Some elements of the interior are distinctly modern, like the stainless-steel staircase. Erich described the project as "lots of challenging details, but lots of fun."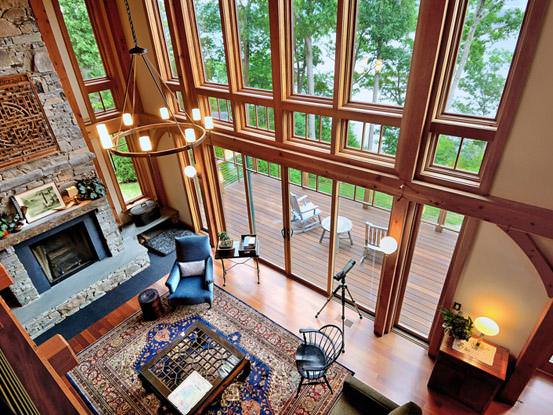 You can see all the pictures for the Split Rock project here. If you are thinking of working with an architect to design a timber frame timber-framed home, then contact Timberpeg today to learn more about how they can complete your home design dream team.  And, if you haven't settled on any architect yet, then many of the Independent Representatives for Timberpeg can help from blueprint to build-out.  Contact Timberpeg today to learn more.