Sitting beside the Sudbury River in Massachusetts is a post and beam home where style abounds and light soars through walls of windows.  While the home has classic barn house architecture, the decor is an amalgam of contemporary fabrics and modern materials.  The results are simply stunning.
Walking through the front door of this contemporary version of a barn house, visitors will find themselves in a soaring room with cathedral ceilings.  This is the perfect space for the homeowners to show off their collection of bird statuary.  Their collection ranges from classic wood-carved decoys to modern metal parrots.  This is a truly open and airy room (shown below).  Even the staircase that runs behind the stone fireplace is open and airy with a metal banister supporting a slim wooden handrail.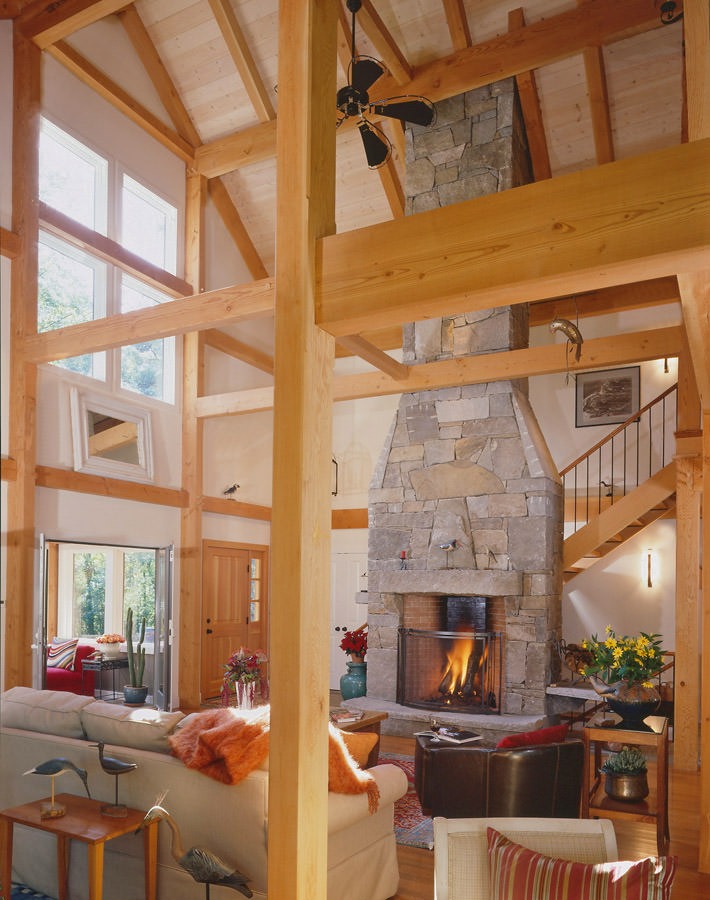 The feeling of an open and airy barn house is carried through to the gourmet kitchen (shown below.)  The kitchen has soapstone counters, as well as a soapstone farm sink.  This gives the space a cohesive and modern look.  The large windows lining both walls assure that the kitchen is always well-lit.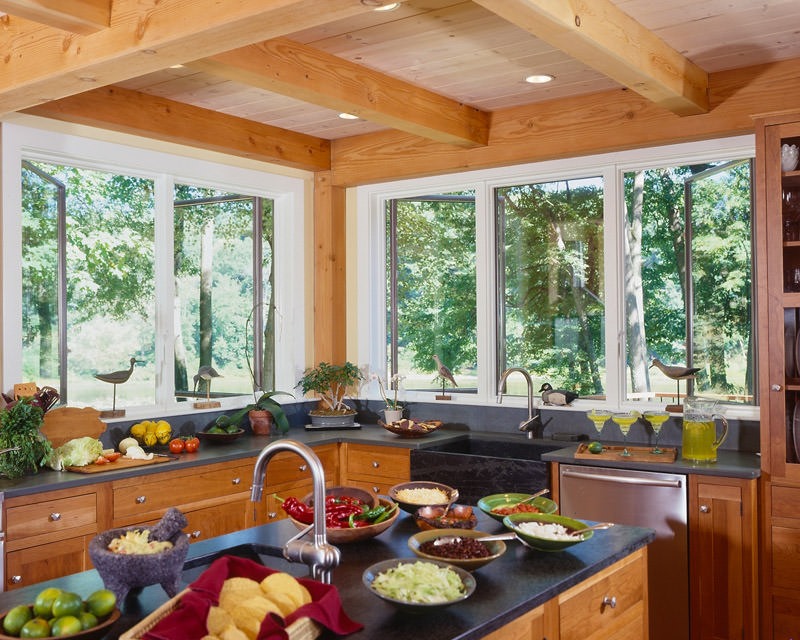 Part of the reason that the kitchen can have so many windows and so few upper cabinets is thanks in large part to the spacious pantry (shown below) just off the kitchen.  The barn house pantry provides a great deal of storage and extra counter space (soapstone to match the kitchen).  The pantry also has its own window facing the Sudbury, which makes even this small space light and airy.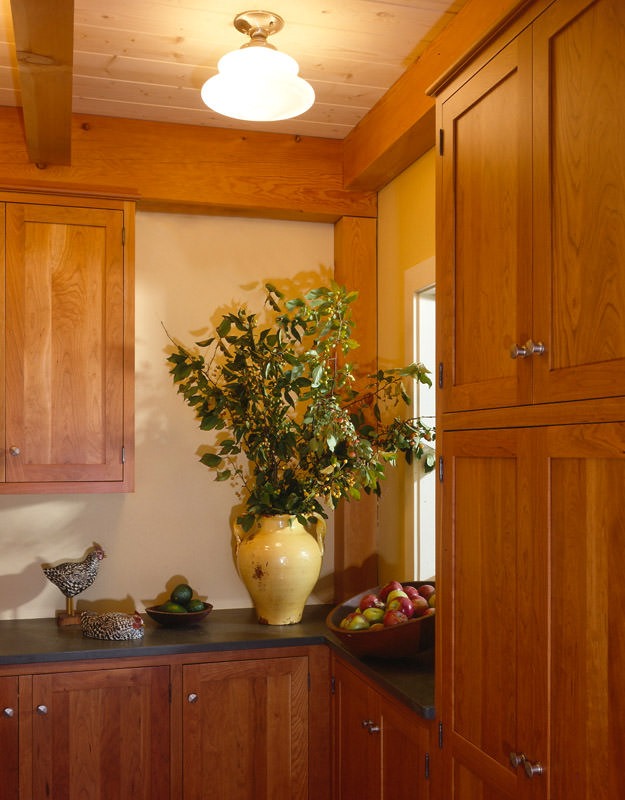 Upstairs, the master bedroom suite continues the spacious and well-lit feel of this post-and-beam barn house.  You can see in the master bedroom (below) that a combination of large windows, vibrant colors and vaulted ceilings can make a bedroom feel more like a soaring tree house.  Wall-mounted bedside lamps keep the nightstands free and add to the open airiness of the space.
The master bathroom has a very fun feel with Southwestern Native American artwork.  The toilet is kept private with stucco-lined half walls and a swinging door that looks like it's straight out of a saloon.  The vibrant turquoise walls and vaulted ceilings assure that this space also feels bright and open.
This post and beam barn house has so much charm and style on the inside, but so much of the house is about providing views out to the great scenery of the Sudbury River.  You can see in the photo below that this post and beam barn house also has some great outdoor living space to take in the view:
This home is one of our favorites thanks to its unique style and open feel.  The setting doesn't hurt either.  We love to imagine waking up in the sunlit bedroom, enjoying our morning coffee with pastries on the deck and preparing delicious meals in the well-lit kitchen. Contact us with a question about this design.