Since we get fewer daylight hours during the winter, maximizing sunlight in the home can be important to our well-being. In many climates, the sunniest winter days are also the coldest days and the least hospitable to venturing outside, so bringing natural light inside is critical for keeping spirits up until warmer days. In warmer climates, screened porches or so-called three-season rooms are a popular way to enjoy the sun for most of the year. Especially in colder climates, the sunroom (four-season room) is a popular way to bring light into the home while keeping out of the elements. In this post, we'll talk about sunrooms and why they would be a great post and beam addition to any home. Sunrooms evolved from the covered porches frequently found attached to row houses as well as farm houses. With the increasing outdoor space families had with newer suburban homes, people would choose to relax in their gardens instead. The desire of some people to enclose an outdoor space from the weather, coupled with improvements to and lowered costs of glass windows, led to the genesis of the modern sunroom. Initially, sunrooms were architecturally distinct from the rest of the house, but over time they have become integrated with the design of the house.
This timber frame home in Massachusetts has a small sun porch just off the great room – a perfect place to cozy up and read a book while enjoying some rays.
If you live in a warm-weather climate, then a screened porch may provide you with a sheltered outdoor space for most of the year. These types of structures can be enclosed by mesh or have movable window panels to provide increased shelter from weather. While screened porches may even have ceiling fans and small heating systems, they are not insulated from the outside, making them uncomfortable in the winter and on very hot days. A sunroom, however, is insulated and climate controlled and can thus be used throughout the year. On its most basic level, the sunroom will be a room with significant exposure to the sun with a generous number of windows. This typically means a south-facing room is ideal, but if you expect to use the room more in the morning or evening an east or west-facing room can also work. If you have good views from your house, then consider planning the sunroom's location to take advantage of these views. There's a great feeling about reading a book on a chilly winter day while snug in a warm, sun-drenched room!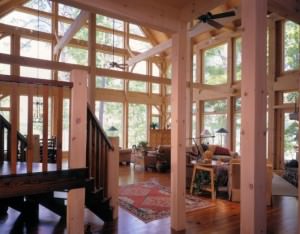 This timber frame great room from a home in Alabama has many of the elements found in a sunroom
In many of our post and beam homes, owners forgo the sunroom but incorporate many of its elements into the great room. These owners will choose to install a large wall of windows in the great room, often with cathedral ceilings, leading to a large amount of natural light. If you have an existing home, then a sunroom is a great addition for more living space. Our designers can work with you to integrate a new post and beam sunroom with your existing home, providing you with a wonderful, sunny retreat perfect for any season. If you're interested in building a timber frame home complete with a sunroom, or if you'd simply like to add a timber frame sunroom to your existing home, please contact Timberpeg to learn more (and bring a little extra sunshine into your life!).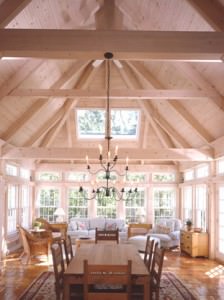 This is a Timberpeg dining room/sunroom addition added to an existing home.