This week, we'll be featuring a New Jersey home's fabulous pool house designed by the talented timber framers at Timberpeg. Specializing in custom designs, Timberpeg was able to create a pool house that doesn't just look great next to the pool but suits the style of the home already existing on the property. All images used are by the supremely talented Rich Frutchey Photography and Fred Forbes Photogroupe.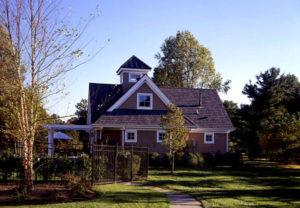 The walkway leading us to the pool shows the beauty of custom timber framing. A large cupola stands tall on the seam of the roof and allows a ton of natural light into the pool house.
Pool House Floor Plan – 760 sf
At just under 800 sf, the Farmingdale is a custom timber frame pool house that isn't just for storing boogie boards. A spacious and stately kitchen opens up to a luxurious living room – all under the canopy of timber frame cathedral ceilings.
Interior Design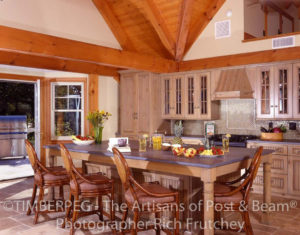 Because it is a pool house, it's meant to have considerable foot traffic in and out every day during the summer. Easy to maintain surfaces – like the flag stone floor and soap stone counters – not only look beautiful but are able to handle pool water and bare feet all summer and still look amazing.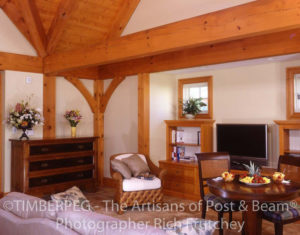 Just off of the kitchen, the living room displays the gorgeous structural beams found in timber frame and post and beam homes. Braces can be structural or aesthetic, depending on the structure, but in this pool house, the braces are structural in that they provide support to the beams.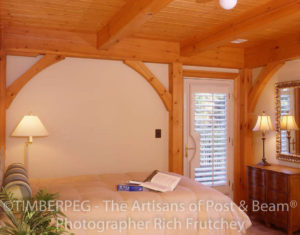 Adjacent to the living room lives a pool house guest bedroom that's truly perfect for an overnight stay. With private entrance and bathroom, your guests will love having their own 'home.' Note the braces on the wall here as well! Timber frame homes are beautiful in that the elements that make them structural are also the elements that create their beauty.
 Exterior Design

Like what we've featured here? Leave questions and comments below. We love hearing from you! Timberpeg® specializes in traditional mortise and tenon joinery, providing an authentic look with heavy timbers, detailed joinery and wooden pegs.