The Truss is one of the most important advances in the history of architecture. Although some important buildings used trusses earlier, the idea saw wide deployment in the Middle Ages. Before this time, roofs were supported only by rafters joined by horizontal beams, which made the roof unstable against horizontal forces.
While the truss is an important structural component in home design, it is also one of the most celebrated aspects of timber frame construction. While the posts and beams of a home are aesthetically pleasing in their own right, the combination of structure and beauty of a truss makes it the star of a timber frame home.
Trusses can be split into two major types, closed and open trusses. Essentially, closed trusses have a horizontal tie beam running across the bottom of the truss while an open truss does not. The simplest type of truss is a closed truss known as a king post truss. This truss has two principal rafters, a tie beam and a vertical king post running down the center of the truss. Since this type of truss uses the least amount of material to build and has a straight-forward design, it is also the least expensive type of truss.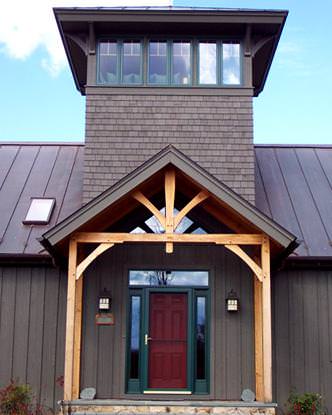 A King Post Truss
Several variations are possible on the king post truss. Frequently, two angled struts run between the king post and principal rafters. Another variation is using a curved tie beam (also known as a curved lower chord) instead of a straight beam (or continuous chord). There are many examples of king post trusses on the Timberpeg website.
A queen post truss is also a closed truss design, but it has two vertical posts instead of one. The two vertical posts are typically positioned to split the span of the tie beam into thirds. Where the posts meet the rafters, they are joined by a horizontal beam known as a straining beam. This design can span a longer distance than a king post truss, and the square area between the queen posts can accommodate a room or window.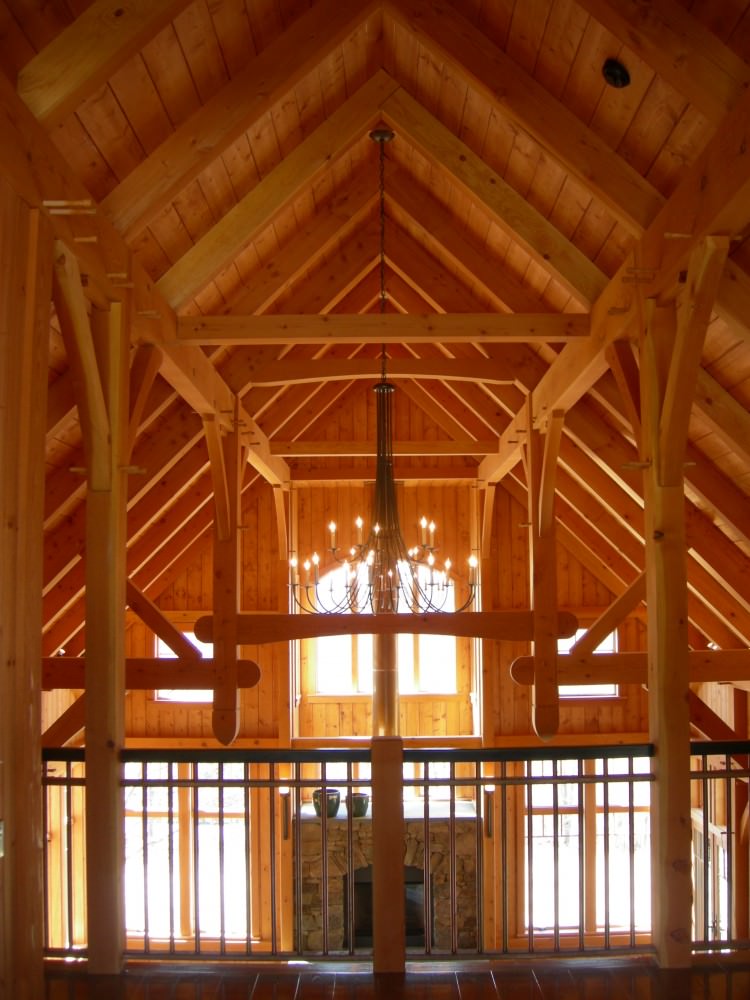 Queen Post Truss. Home designed by Timberpeg Independent Representative Erich Diller of Evolve Design Group
Open Trusses can help give a more open feel to a room. A cruck truss is a type of arch-braced truss. The rafters are linked by a collar beam, while arched timbers below the collar beam support the roof. This allows for a room with great open space and also has a distinctly Gothic feel.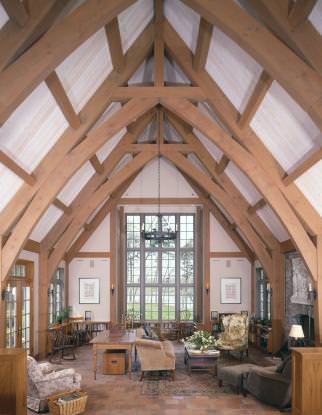 A Cruck Truss has a distinctly Gothic feel.
The hammer beam truss is an even more ornate open truss. In this design, the rafters rest on short, braced beams called hammer beams that project from the wall but do not span the entire truss. On top of the hammer beams lay another set of posts and braces that support the collar beam and roof. This design allows for an open room with a truss spanning a great distance. Perhaps the grandest example of this design is Westminster Hall in England, which has a hammer beam truss spanning 68 feet across a hall 240 feet long and 64 feet high. Not bad for a structure completed in 1399!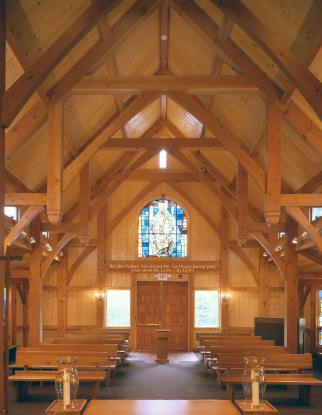 A Hammer Beam Truss
If you have questions about any of the homes featured here or would like to learn more about designing a timber frame home of your own with such beautiful trusses, then contact the team at Timberpeg to learn more.  And, if you have a particular appreciation for a certain style of truss, then leave us a comment and share which design is your favorite!