For families that spend a great deal of the winter skiing, a ski lodge home is a natural desire. And there is no better style of home for a ski lodge than a Timberpeg home. Of course, in any build project, having people who understand your needs is an important consideration throughout design and construction. Since the architect, Tom Samyn of Timberpeg Independent Representative Samyn-D'Elia, and the builder, Shad Lawton of the Lawton company, are both avid skiiers, the homeowners were in good hands.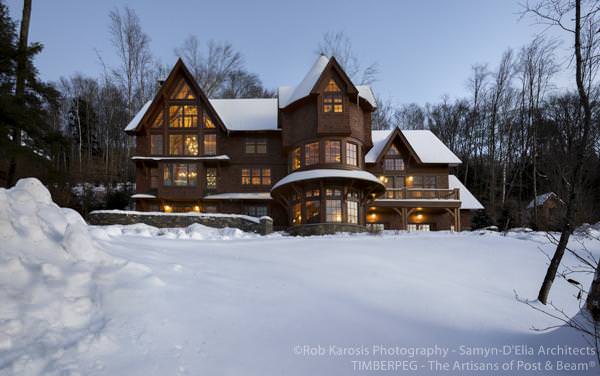 Although this Lincoln, NH lodge is a large home at 7535 square feet, its location against a hill and large great room and central tower keep everything looking in perfect scale. The roof is highly pitched, both shedding heavy winter snows and maintaining traditional style for the region. The siding is a bright red Douglas fir, a big pop of color against the white snow.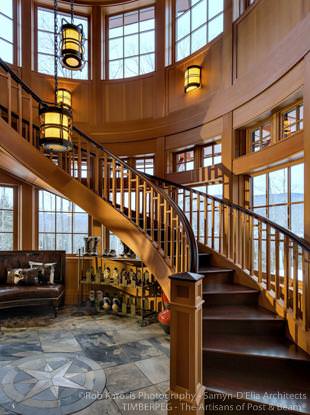 The home is entered from the basement floor, with the main floor in the middle and the living quarters on the third level. A large circular tower in the middle of the home is the entry point, and a large spiral staircase takes you to the upper floors. Large central towers like this were commonly used as a whole house chimney in Victorian architecture to provide cooling in the summer. This tower instead serves as the appropriately grand entrance to the home.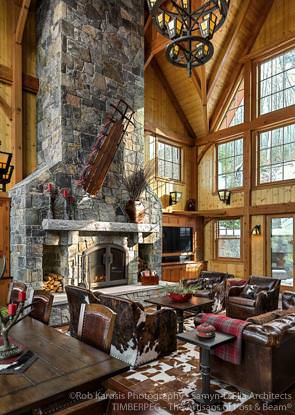 The great room also revels in the lodge's massive scale. The open concept room serves not only as a living space, but also houses the kitchen and dining room and a wet bar. The room also gives new meaning to cathedral ceiling, since it spans all three floors of the home. The fixtures here are sized to match, with the living area centered on a stout fieldstone fireplace. The steel chandelier is actually so large that the home needed to be constructed around it.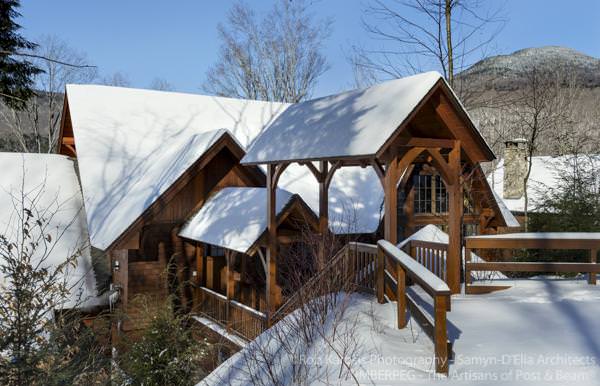 Upstairs primarily serves to house the five bedrooms and an office. A bridge to the ski slopes is also provided at this level, creating great opportunities for ski-in/ski-out access. The mudroom is also designed around skiing, with plentiful storage and boot driers. There is even a ski tuning room near the garage, and of course the entrances are designed to handle the wear and water from entering skiers. Once the ski day is done, a protected outside hot tub is a relaxing destination.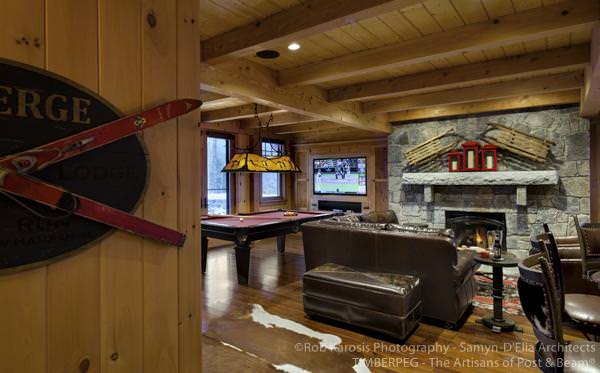 We've merely scratched the surface on all this ski lodge has to offer. You can read more in a feature on this home in New Hampshire home magazine. Or, if you have any questions about this home, you can contact us directly.