Northern cities commonly claim that they only have two seasons: winter and construction. In northern New England, we commonly claim to have five seasons. In addition to the canonical four seasons, we have mud season. About this time of year, the snow melts but the frozen lower layer of soil means the water has nowhere to go. Trails and unpaved roads quickly become a sloppy mess. It's these conditions that makes every homeowner wish they had a mudroom.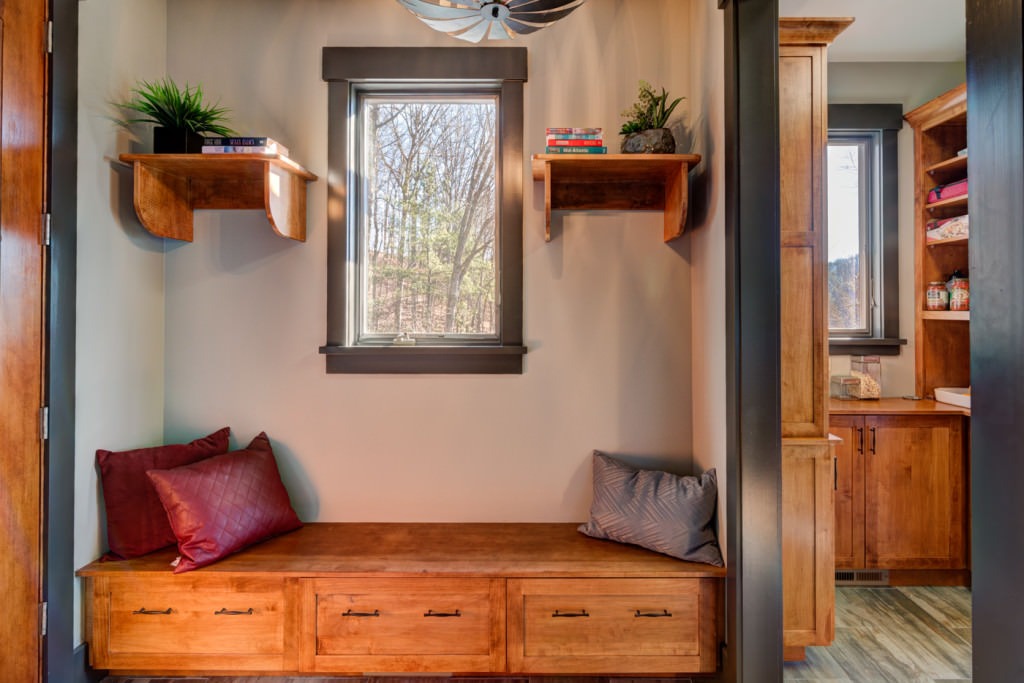 The idea of the mudroom, an informal entryway in which to remove footwear and dirty clothing, only emerged in the last 50 years and has only really taken off in the past 30 or so years. Some small mudrooms provide basic functionality without sacrificing style. This mudroom in an Asheville Timberpeg provides all the necessary features in a compact layout. The mudroom has seating to take off boots and a small closet, while the laundry is conveniently next door.
To save even more space, the laundry and mudroom can be combined into one room. Typically, this room will be just off the kitchen, which is a very convenient place for a laundry room. Being able to wash dirty outerwear or the kid's athletic gear immediately upon returning home is also a great time saver.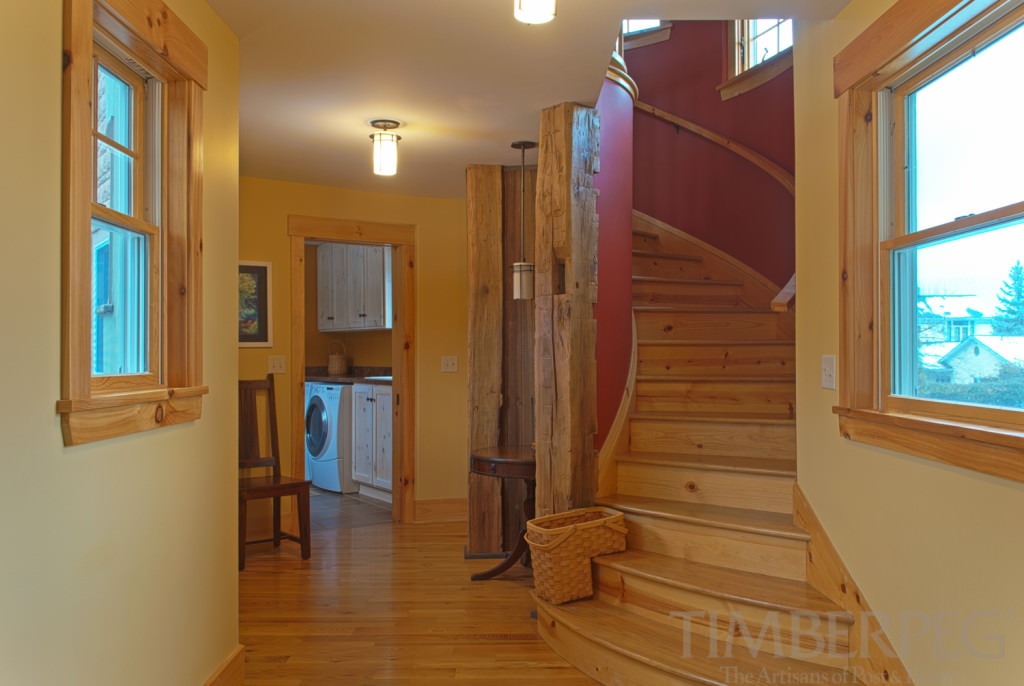 This barn home in Ohio has a slightly split mudroom area. The garage enters the house through the laundry room, and shoes are removed in this area. Just beyond, at the base of the stair "silo", is a small sitting area and place to hang coats. While other small mudrooms can feel cramped, this design feels open yet separate from the main house.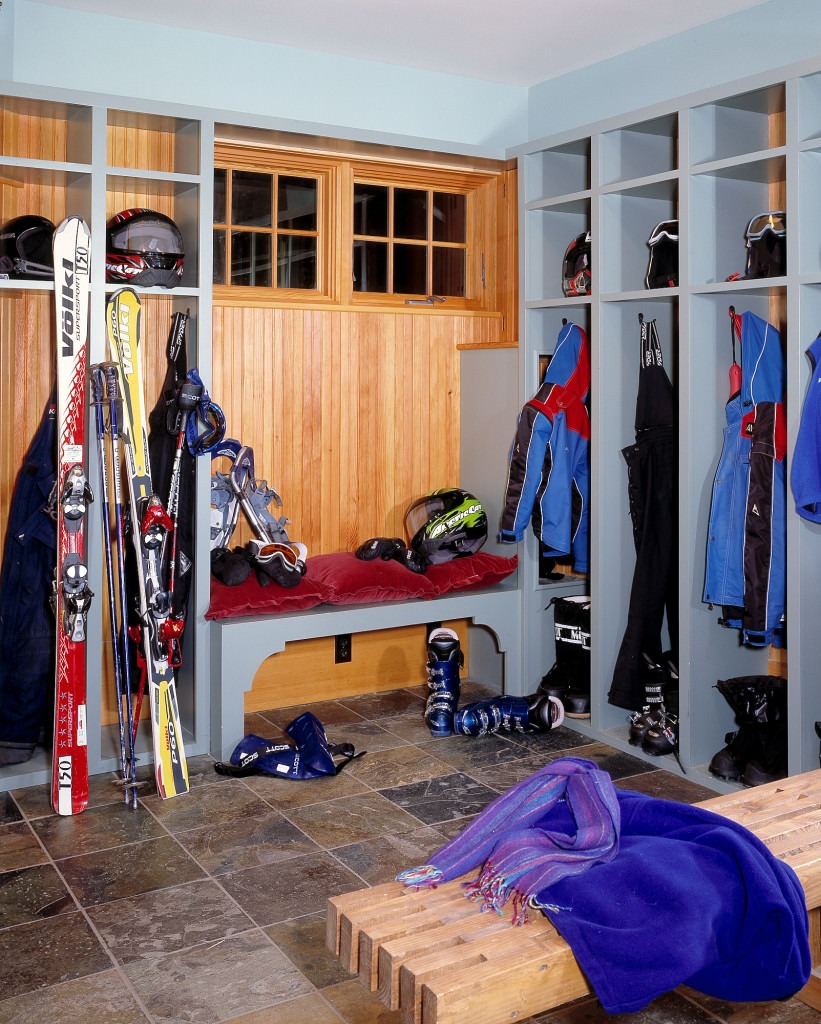 Mudrooms are especially popular in ski homes, although it would seem that "snow room" would be a more appropriate term here since the room serves to keep wet equipment and clothes out of the living space. This mudroom in Ascutney is typical of the style. Large cubbies are provided for skis, helmets and gloves, with bench seating for gearing up and down.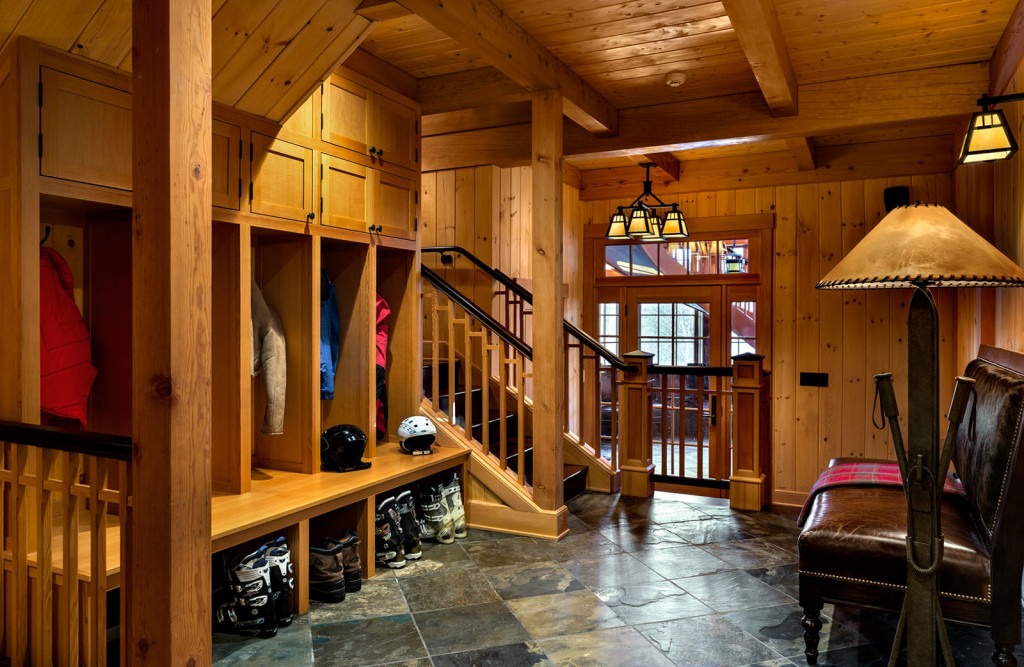 The Lincoln ski home, which was designed by Samyn-D'Elia Architects, P.A., has two mudrooms, with the one upstairs actually acting as the main ski mudroom. Interior Designer, C. Randolph Trainor Interiors, created a functional well thought-out space with plenty of room for skiers to get ready for a day on the slopes. A bridge from this room connects directly to the slopes, so the upstairs location made more sense than a basement one. Again, built-in storage holds everyone's gear, while the tile floor and wood-paneled walls keep the room clean and attractive.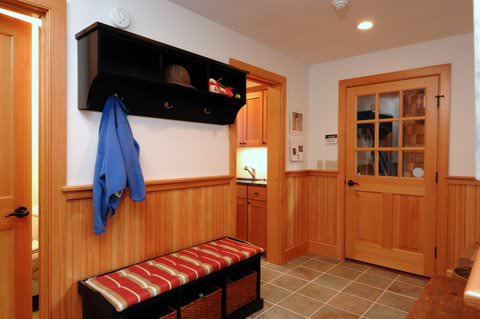 Are you looking for a home with a mudroom for this and all the "five" seasons? Then please contact our team, who will work with you to integrate a great mudroom into a lovely timber frame home.