Over the years Timberpeg® has been involved with countless stunning projects.  One of the most memorable homes is this timber frame home designed by Dennis Keefe, AIA.  Inspired by a combination of Arts and Crafts style homes and the homes of the English countryside, the architect crafted the design for this home with an eye for classic design and and a desire to make the home blend with the land.  Working together with Timberpeg®, the stunning great room, perhaps the showpiece of the home, was designed and cut to exacting specifications and soaring heights.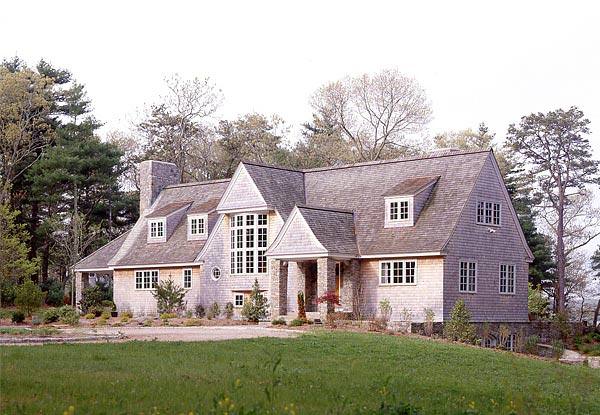 With the roof line showcasing the most subtle of curved flair, this home is a testament to understated elegance.  The roof and siding are both finished in cedar shingles which left untreated quickly took on a distinguished gray cast.  The uniform shingle treatment gives the home a cohesive and put-together look.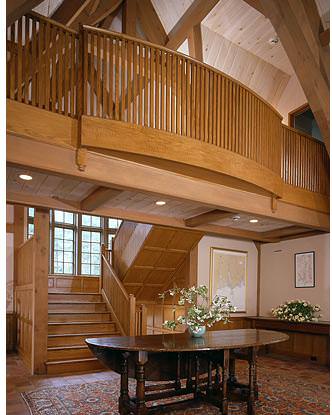 A grand staircase with curved balcony above gives this timber frame home the feeling of a grand manor while still maintaining a comfortable ease and flow.  An antique drop leaf table serves as central focal point for this open space.
The great room is a sunken wing of the home with a spectacular impact on the senses.  As you step down into the room the ceiling soars higher.  The curved style of beam used in the trusses is referred to as a cruck truss.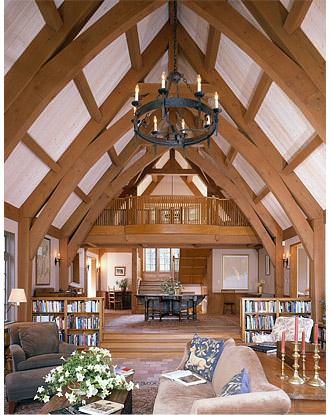 The soaring ceiling and curved cruck trusses make the great room feel like the ribs of a great sailing ship which has capsized and been transformed into a grand library.  A heavy, wrought iron chandelier keeps the room on the less formal and more familiar side.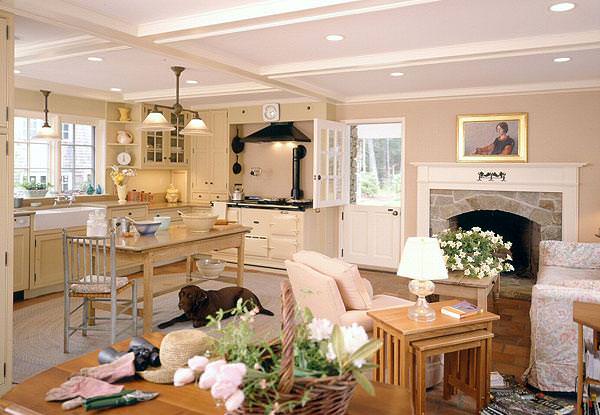 A loyal companion sits watch over the classic English country kitchen.  A dutch door opens onto one of the covered stone patios.  A stone fireplace opens out to a tiled floor while white coffered ceilings lend an air of sophistication to the room.  The countryside look is made all the more complete with a wide, farmhouse sink.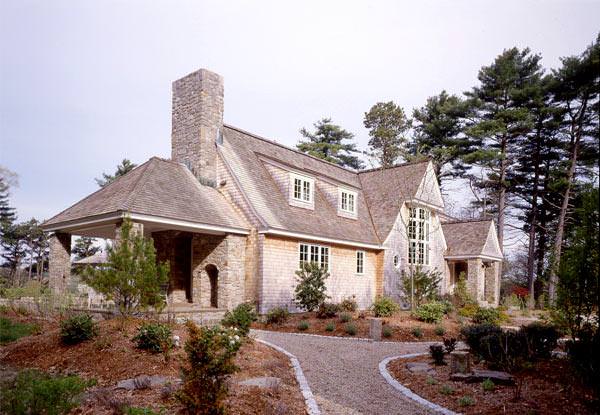 The rear of the home shows pea gravel paths through an open and natural landscape.  The larger covered patio, shown above, shows off an exterior fireplace to gather on chilly evenings before retiring to the comfortable indoors. We hope you've enjoyed this look at one of the classic architect-designed Timberpeg® projects. If you are working with an architect and would like to learn about how Timberpeg® can work with your architect, please contact Timberpeg® to get the conversation started.