Two weeks ago, we discussed the origin and evolution of the Cape Cod style home. While reviewing our blog, we discovered that we have talked many times about Craftsman-style homes by Timberpeg, but we have never defined or discussed the style itself. This seemed like a perfect opportunity to delve into this very popular style. Whether you've been a Craftsman aficionado for life or are looking for an introduction to the style, read on to discover the history of these wonderful homes.
While the Cape Cod house has a history dating to the early days of the American colonies, the Craftsman style has much more recent origins. The American Craftsman style (usually shortened to just Craftsman) had its origin in the Arts and Crafts movement of the late 19th century. This in turn was inspired by the British Arts and Crafts movement, which was a reaction against the perceived degradation of individual workers in the Industrial Revolution. As a result, the style emphasized hand worked materials over mass-produced goods, and relied on simple forms and local materials. The British movement was also a reaction against the ornate Victorian aesthetic, but the American style, emerging three decades later, instead focused on providing housing affordable to the fast-growing middle class.
As an architectural style, Craftsman houses emphasized clean lines, with a solid structure of natural materials. Although ornate timber details, joinery and trusses are certainly an option, many people will choose a frame where the natural wooden members are joined in a clean, simpler fashion, which illustrates how post and beam fit perfectly with this principle.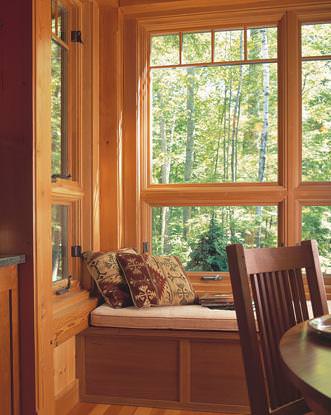 A Craftsman house will have a low-pitched roof, possibly hipped or gabled. The eves are typically deep, especially in the front where a large veranda is typically found. Traditionally, the columns supporting the roof have a square profile and taper as they climb from the foundation. The windows are also traditionally multipane. Double-hung windows with four or six panes over a single large pane tend to be the most popular choice. Although these homes can be two stories tall, the popular Craftsman Bungalow has only one large floor, with a possible loft space up top with optional dormers for additional usable space. How do you feel about the Craftsman-style home?  Do you think it's the style you'd prefer for your timber frame home, or do you instead lean towards the cape or some other style home?  Leave us a comment and let us know your thoughts.  And if you have any questions on the homes featured here, please contact Timberpeg to learn more.