As we mentioned in our "kitchen layout ideas" posting, it wasn't too long ago that the kitchen was sequestered from the rest of the home.  But that was then, and this is now.  Nowadays, the adage goes "No matter the guest, they'll always like your kitchen best."  This really speaks to the propensity for guests to all bunch up in the kitchen. So, we think, if your guests are going to end up in the kitchen, you should approach decorating your kitchen like the other rooms in your house – making it reflect your personal style.  With that in mind, here are 10 ways to make your post & beam kitchen uniquely you!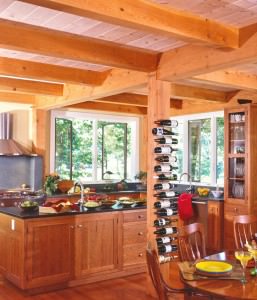 A kitchen can have tons of style and still be the functional space it needs to be.
1) A Fun Back-splash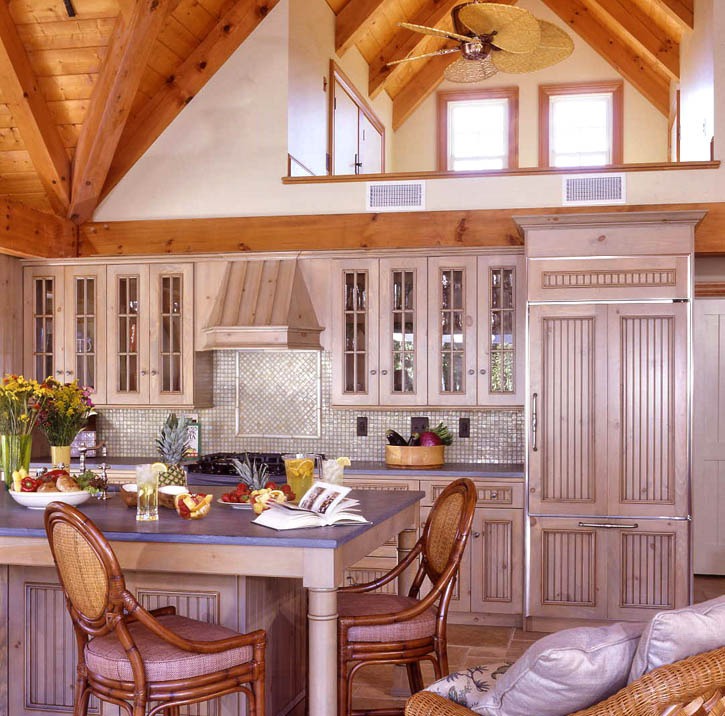 If the kitchen were like an outfit, think of the back splash as the perfect accessory.  It should reflect your personal taste and look right with the rest of your outfit.  The post and beam kitchen above shows a back splash in an understated color palette that blends in with the colors of the kitchen.  But the back splash has a fun, reflective quality that makes each small tile shine like a little fleck of precious metal.
2) Awesome Lighting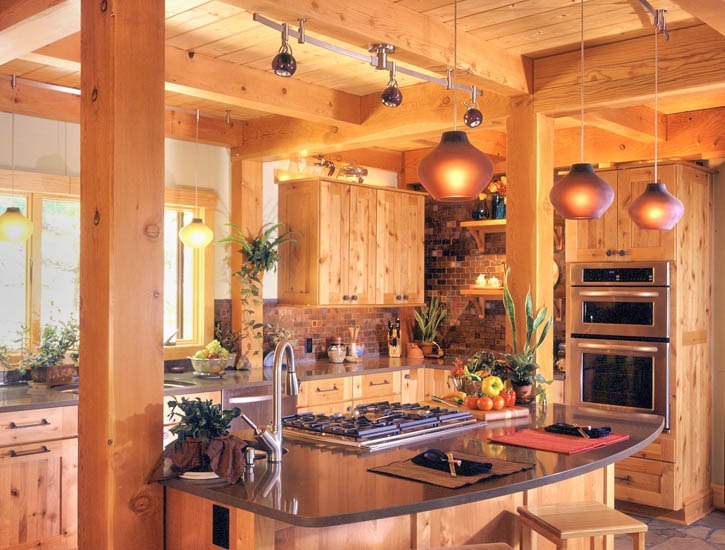 Obviously, a kitchen needs enough light to make it safe for slicing and dicing.  But once that basic need is met, it's time to have some fun with the lighting.  The post and beam kitchen above has some great pendant lights made from frosted orange glass.  Their unique shape and warm color makes them really glow.
3) Gorgeous Countertops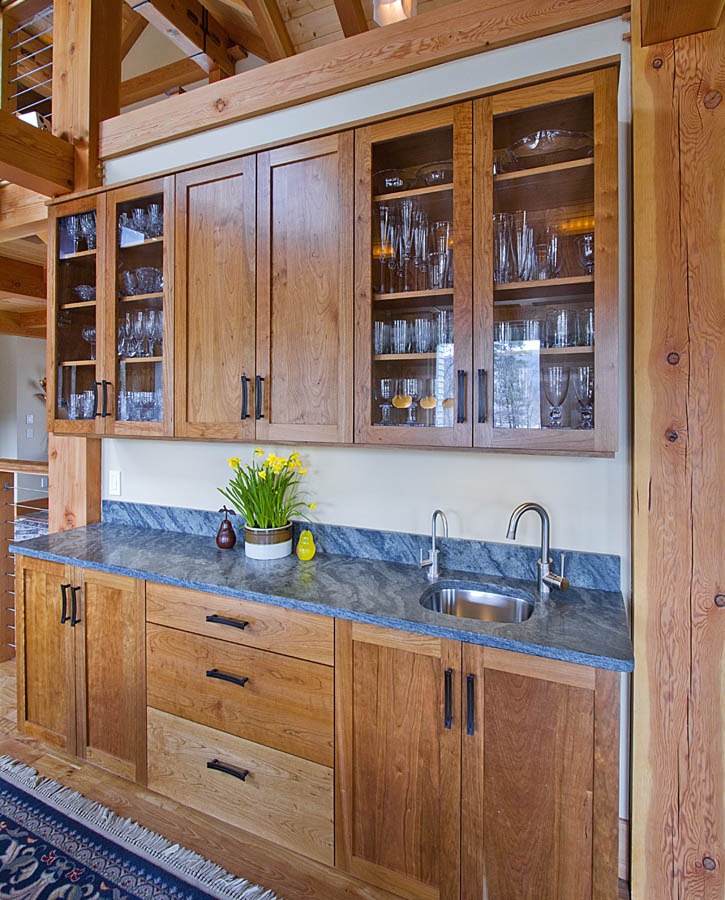 When it comes to countertops, there are so many choices available to today's post and beam homeowner.  Finding something that suits your taste has never been easier.  The post and beam kitchen shown above has a gorgeous soapstone countertop.  Just make sure you pick something that will suit your needs.  For example, while white marble may be pretty, if you are a messy cook who's always splashing red sauce to and fro, you'll need to keep in mind that the marble can and will stain.
4) Unique Bar Stools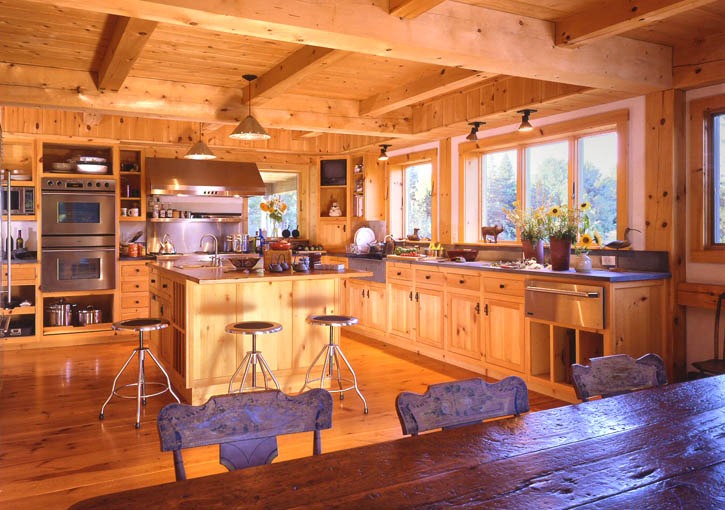 A lot of kitchens today have counters designed for bar stools.  Whether you eat meals in the kitchen, or just invite family and friends to have a seat while you do some cooking demonstrations – the bar stools are a great way to introduce some personal style into the room.  The post and beam kitchen above shows off some great modern style bar stools made from stainless steel.  They provide a nice contrast to the old antique wooden dining table next to the kitchen.
5) A Sink with Some Charm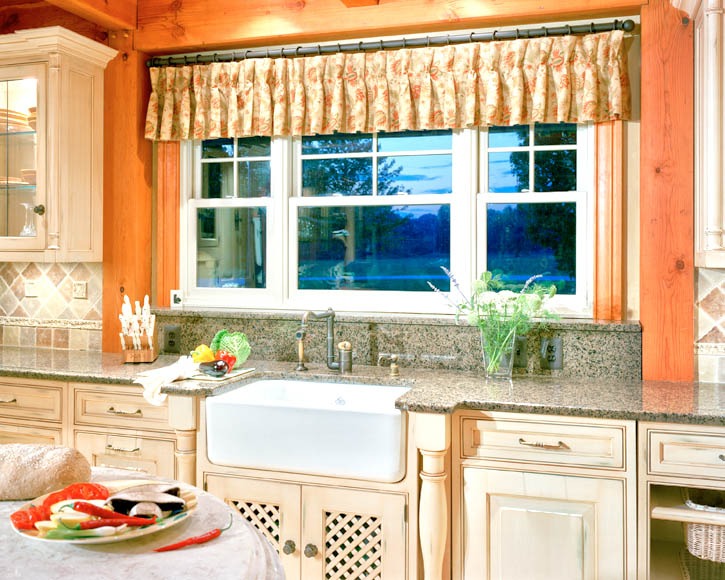 The kitchen sink is often thought of as strictly utilitarian. But actually, when it comes to showing off style, we think you should consider 'everything AND the kitchen sink.'  The post and beam kitchen above has a French Country charm and to fit with this theme, the homeowners selected a beautiful farm sink.
6) A Fireplace in the Kitchen
This post and beam kitchen shown above has a wonderful, Tuscan style about it.  From the use of plaster on the walls to the stone farm sink, everything says 'old world'.  To go along with this theme, the homeowners also chose to include a fireplace in the kitchen.  Harkening back to days of yore when much of the cooking was done with fire, the fireplace is a lovely and appropriate addition to this post and beam kitchen.
7) Cabinets With Some Color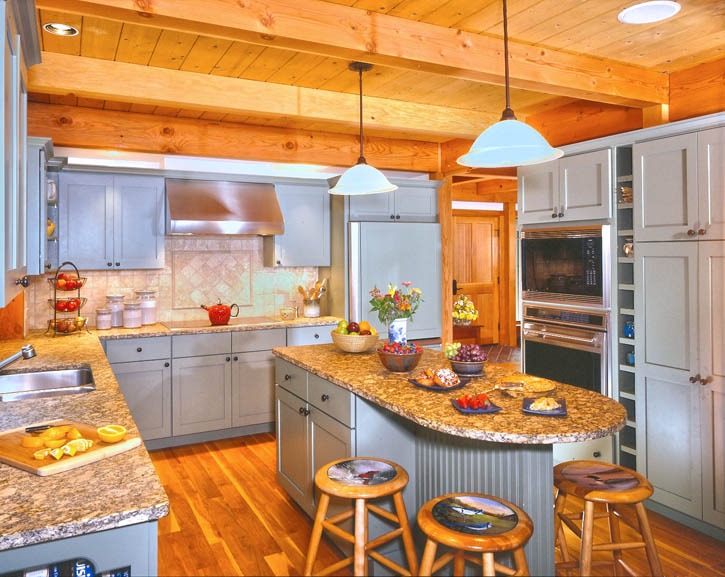 It seems like the majority of cabinets have a stained wood finish.  Be it the lightest maple, to the darkest walnut – wood has been a dominant choice for quite some time.  White cabinets have also been fairly popular, especially in the past 5 years.  But with a whole spectrum of colors to choose from, why limit yourself to neutrals?  This post and beam kitchen above shows off cabinets in a light shade of blue gray.
8) Cabinets with LOTS of Color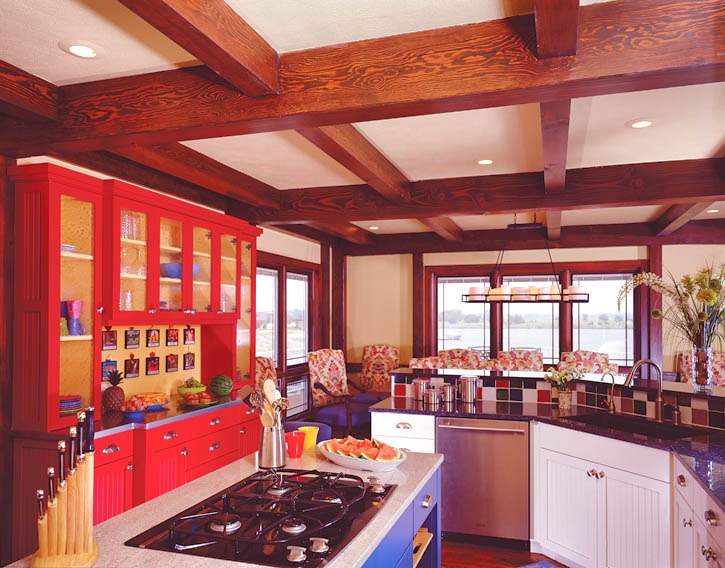 If you really love color, why limit yourself to just one cabinet color?  Make your kitchen truly your own and pick two or three colors for your cabinetry.  That's what the owners of the post and beam kitchen shown above did.  Their entire post and beam home was actually themed around the hot watermelon color and the electric blue color on the island.  While it may be too out of the norm for some, it's what helped truly make this home their own.
9) Going to Great Heights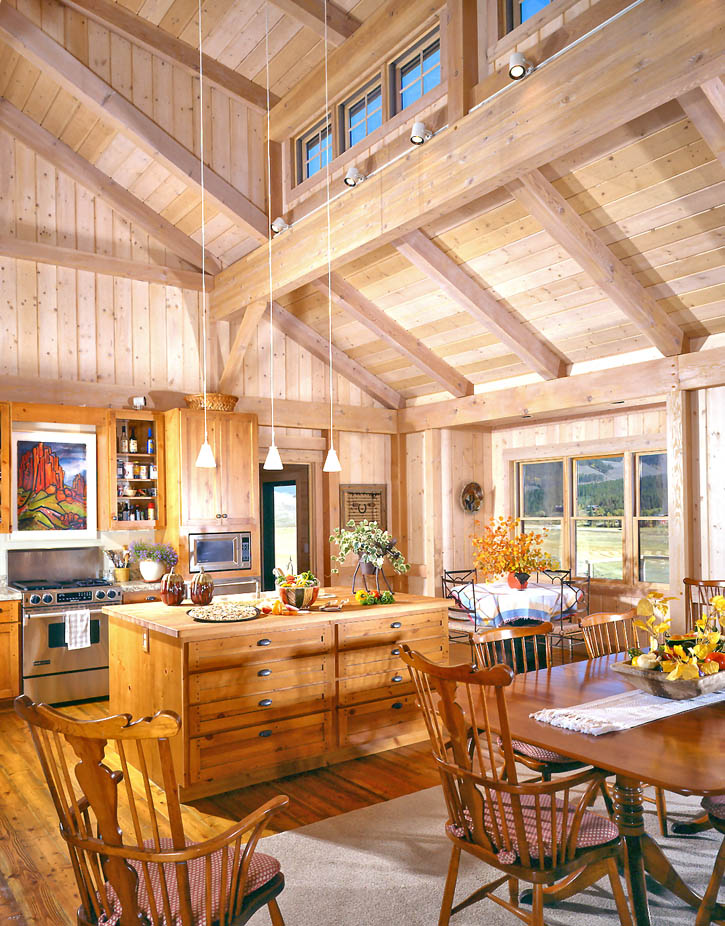 Since the kitchen of today is a social room, and also a space where occupants are typically standing up – cathedral ceilings are a nice option.  They can help make even a small kitchen feel much larger and more well-lit.  The post and beam kitchen shown above was built in Colorado and has a wonderful sun washed feel with a real Western flair.
10) Fine Food, Friends and Family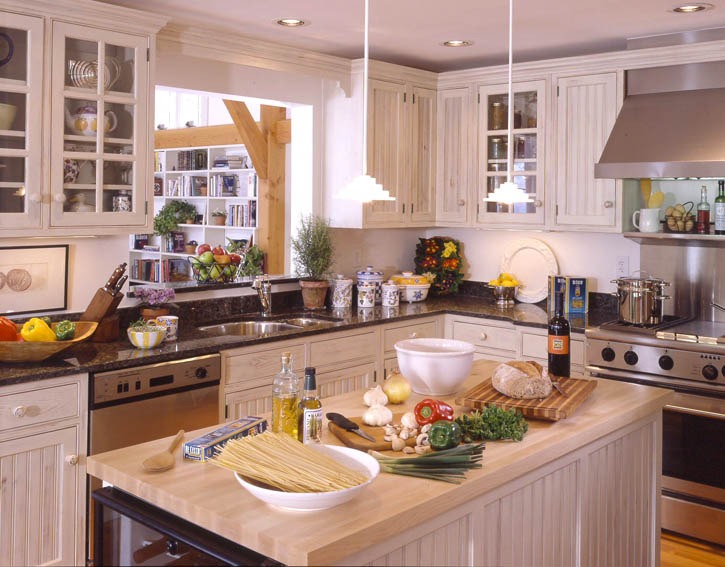 The most important way to make your kitchen uniquely yours, is to fill it with your friends and family and the foods you love to cook and eat.  After all, while the kitchen may have become more and more social over the years, its main purpose is still to prepare delicious dishes to be savored by those whom you love.