We're currently nearing the end of "awards season," the time of year in which the film industry has its major award events. With this inspiration in mind, we thought it would be fun to "award" some of our favorite timber frame kitchens. Without further ado, here are the winners.
Best Kitchen Feature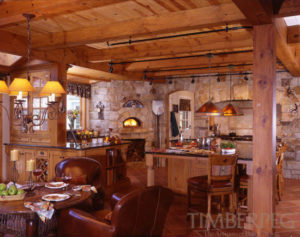 While this New Jersey home also has the range set into a stone arch, it is the feature to the left of the stove that provides it a win in this category. For a serious home baker, a wood-fired oven is a showstopper feature for the kitchen. Whether baking pizza or bread, this type of oven will open up new possibilities and flavors. As someone who makes do with a pizza stone, this is one feature I'm truly jealous of.
Best Antique Style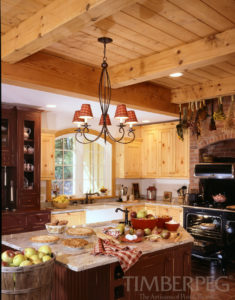 This Florence, Massachusetts home excels at combining traditional features into the modern kitchen. The antique stove set in a brick arch evokes the kitchens of centuries past while providing modern functionality. The Dutch door leading to the combination mudroom/pantry and the farmhouse sink are also old design choices that still perform. The stressed finish of the island and hutch contribute to the rustic feel of the kitchen.
Best Cabinet Finish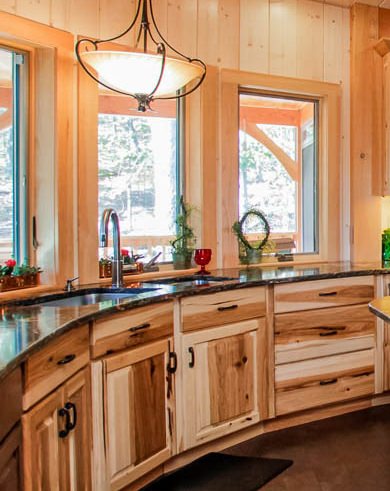 This Hancock, Maryland Timberpeg home has a cabinet selection that is second to none. While other homes often use a neutral stain or paint color, the hickory panels on these cabinets have a presence unmatched by other cabinets. The natural variation in color and grain means that no two cabinets are the same, yet they all have a cohesive look.
Best Overall Kitchen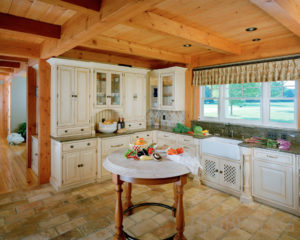 With so many great kitchens to choose from, this category is a tough one. But the choice for best kitchen is this one, also from a home in New Jersey. The cabinets, in classic white, are just the right balance between formality and functionality. Also, there is the perfect balance of opaque and glass-fronted cabinets. The farmhouse sink is charming yet usable, while the industrial double oven and expansive range is a delight to use. The island stands out in its green accent color, and also has a prep sink, seating and more storage space.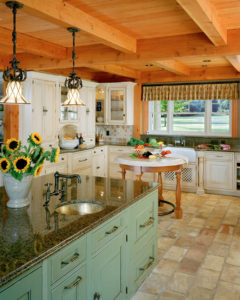 We hope you've liked our kitchen "awards" post. Do you have a favorite Timberpeg kitchen? Contact us and let us know and we can start designing a new kitchen (and home) for you.