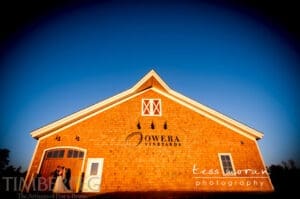 Photo by Tess Moran Photography – http://tessmoran.com/
In our last post, we discussed tips for organizing and storing your wine collection at home. While this is helpful advice for the average homeowner, some of our clients have even bigger aspirations. Timberpeg also builds non-residential buildings and has constructed timber-framed buildings ranging from farmstands to churches to schools. With the explosion of wine production throughout the country, we have also been proud to build wineries that lend a timber frame charm to these already enchanting places. While we have built winery buildings in more classic wine-growing regions like California, here is a look at a winery in the east.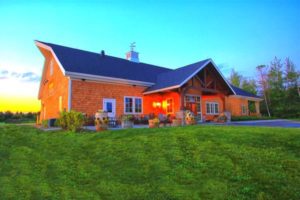 Photo Courtesy Owera Vineyards
This winery is the beautiful Owera Vineyards in Cazenovia, NY. This facility showcases the range of construction that Timberpeg has to offer. On the one extreme, we can construct small structures like the pergola that is used for outside weddings and other gatherings. While small, the craftsmanship and attention to detail in these pergolas make them a welcome addition to any property.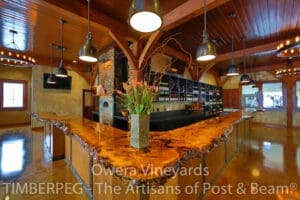 Photo Courtesy Owera Vineyards
In addition to the pergola, Timberpeg also constructed the frame for the main winery building on the property. The winery building has a classic barn shape, which feels appropriate in this rural setting in upstate New York. The inside of the winery has a minimalistic feel, with a single large tasting room with wine production facilities beyond. The tasting room's open nature freely showcases the posts and beams, evoking the feel of a renovated barn. For wine storage, this room uses diamond-style storage for most bottles with straight-wall storage to showcase certain bottles. The expansive, unique countertop is a visual showstopper, which is easily accommodated by the wide-open floor plan that is afforded by the timber frame construction.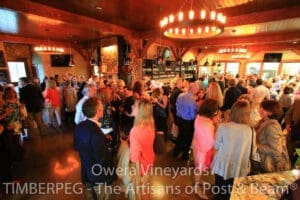 Photo Courtesy Owera Vineyards
Of course, beyond making wonderful wine, a timber-framed space like the Owera Vineyards winery also makes a beautiful place for a wedding.  We're a bit enamored with 'barn style' weddings though – we even wrote an entire post on barn-style weddings which you can read here.
If you're planning to be in or near the Upstate New York region this season, we definitely recommend that you stop by and visit Owera Vineyards.  They are open from 11am to 7pm Wednesday thru Friday.  On Saturdays and Sundays, they are open from 11am to 5pm and closed Mondays and Tuesdays.  A visit to the winery will not only reward you with views of the gorgeous timber frame, but also some sweet rewards (and dry, and off-dry). If you'd like to learn more about this project, please contact Timberpeg.  Whether you're just a wine enthusiast looking to build a stylish tasting room or a full-time enologist looking to plant several acres of vines and an expansive winery to match, Timberpeg can help design the perfect space that will suit your needs.