Given the wintry weather that has much of the country in its grip, our thoughts have again turned to the joys of a roaring fire. Meanwhile, many children's thoughts center on the fireplace for other reasons. So, we thought we would feature some houses with fireplaces and chimneys fit for Santa Claus.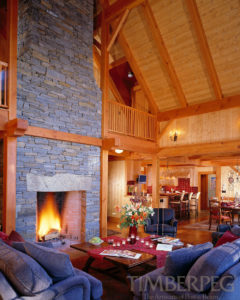 Our first home is a bit of a cheat. Instead of being a fireplace fit for Santa, it is more properly a fireplace for a "fit Santa." The chimney is properly massive, and the fireplace looks quite large. However, it is a Rumford fireplace, which is very shallow to help it draft better and radiate heat more efficiently. Still, perhaps a trim Santa could make it into this home. For the really cold nights, the opposite side of the chimney hosts an efficient woodstove.
The Gem State houses this Timberpeg with a real gem of a fireplace. Naturally, it also houses a substantial chimney suitable for Saint Nick and his bags of gifts. The fireplace here is also quite a bit bigger than in the previous home, making the old man's job a bit easier.
Sometimes, a great fireplace can still be an understated affair. If you approach this home in New Hampshire, you will see a large brick chimney dominating the wall of the living room. On the inside, however, the chimney is hidden by the plaster of the room's walls. The fireplace is large, however, and located at floor level for better heat transfer.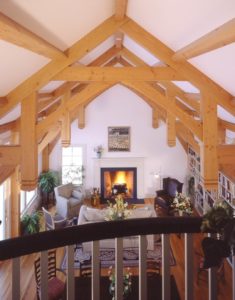 Certain children might try to stay up late and catch Santa when he arrives. This home in Bradford, New Hampshire has a trick up its sleeve to combat such a strategy. In addition to the large fireplace in the great room, this home has a slightly smaller fireplace in the master bedroom that shares the same chimney. This way, Santa can conveniently sneak in and out through the master bedroom.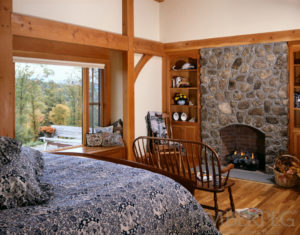 A grand home necessarily demands a grand fireplace. This ski lodge is no exception. At 7,535 square feet and housing many guests, the massive stone fireplace in the great room feels just to scale. The room is in fact so large that the chandelier above needed to be constructed in place. While this large fireplace is certainly very nice, we wonder if Santa might prefer the outdoor fireplace next to the hot tub.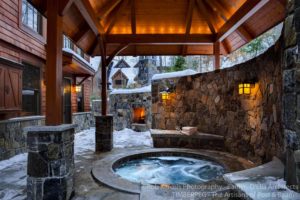 We hope you've enjoyed this look at fireplaces in our timber frame homes and wish you all a happy holiday season.