For the bibliophiles among us, having a place to store, display, and read books is an essential function of our home. Whether the home has a full-sized library or a conveniently placed reading nook, this space will surely be a favorite. Each of these spaces must balance the public function of displaying a book collection with the more reflective nature of a reading space. Here are a few homes and their solutions to creating the perfect reading space.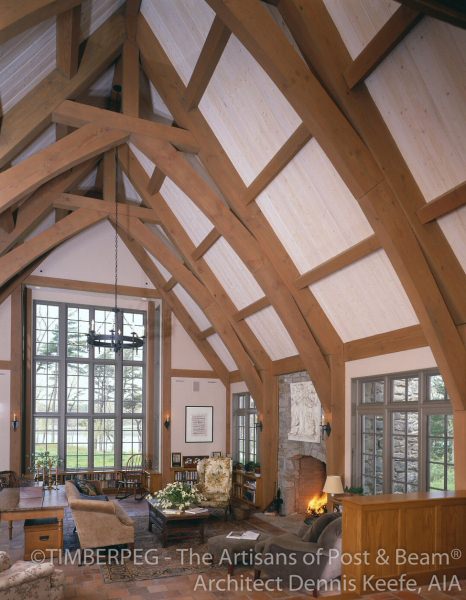 In many homes, the great room is the anchor for the reading space. In this Massachusetts Timberpeg home, the cruck truss great room also functions as the reading room. The first section of the great room houses a table and provides connectivity to the rest of the home. The second half of the room is sunken and is a great reading space. Tall bookcases help separate the reading area from the rest of the room, while knee-high bookcases line the remaining walls. Banks of windows on all walls let in plenty of light, while a massive fireplace makes for a great nighttime reading experience.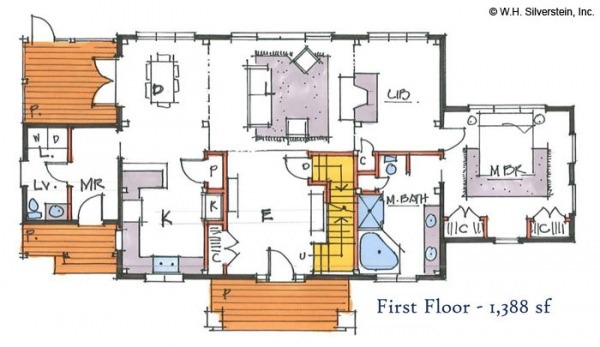 If you're looking for a slightly more private read, the Cobb Meadow plan might be for you. Here, the library is placed in a room behind the great room fireplace. This separation makes it a quieter space than the great room while keeping the room close to the public home spaces. The master bedroom is actually accessed through the library, which creates a buffer between the bustle of the great room and the bedroom.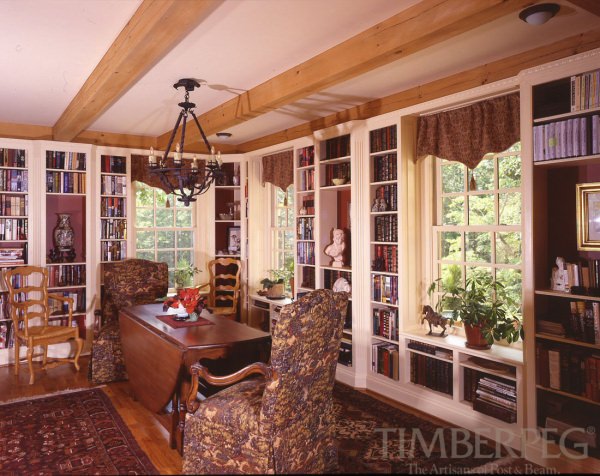 While the great room is the most common room to combine with a library, there are other options. This Virginia Timberpeg combines the library and dining room into what the homeowners call a "Libing" Room. With floor-to-ceiling bookshelves interrupted only by generous windows, this room makes the greatest possible use of the shared space. The upholstered dining chairs are thankfully very comfortable, essential for their dual role as reading chairs.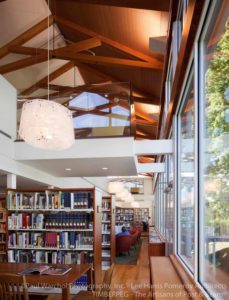 Of course, if your book collection is truly massive, then a more substantial library will be called for. This photograph comes from the Bridgehampton, NY library, for which Timberpeg provided the massive scissor trusses. As you can see, a timber frame is not only beautiful, but it also is very functional since it spans large distances between supports.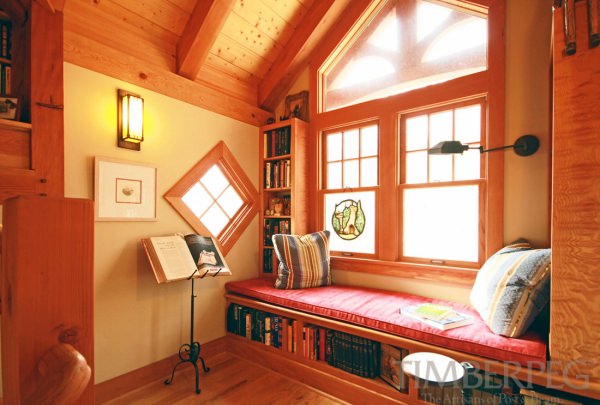 Whether you need a large library or merely a small reading nook in your home, we would be happy to build you a home that's a book lover's paradise. Please contact us to get started designing your home.