While modern appliances can be quite convenient, they often aren't the most attractive items inside the home. Sure, stainless steel can have an industrial charm to it, but many homeowners want a softer feel. For appliances like refrigerators or dishwashers, disguising them to match cabinetry is an effective choice. The stove or range, however, usually cannot be hidden due to its output. One solution is to not try to hide the range but merely surround it with a more rustic environment.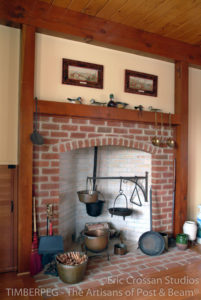 Before on the blog, we've covered the evolution of the kitchen. At first, the kitchen was merely a pit in the middle of the house, but eventually, we designed fireplaces and chimneys to control the smoke. These fireplaces were used for both room heating and cooking, and once wood stoves became popular, they were often placed into large fireplaces. While modern kitchens do not typically have large fireplaces, a modern rustic kitchen may use a fireplace-like structure to house the stove. This home in Massachusetts uses both an arched brick fireplace and an antique stove to create some rustic charm. However, this is not as rustic as it looks, since these stoves are usually converted to natural gas operation rather than retaining their original wood or coal-fired operation.
Even though this kitchen would have looked fairly bucolic without the fireplace setting, combining it with the antique range really makes this home feel like a modern interpretation of an 18th-century farmhouse. This home in Virginia uses an arch made of stucco with tile backsplash to create a similar effect. While the oven and range are obviously newer and the setting was never actually a fireplace, the setting still softens the appearance of the new appliances. The actual fireplace on the adjacent wall certainly helps to contribute to this home feeling like a Tuscan villa. This New Jersey home uses a similar approach, but the front fascia of the arch is stone.
 Instead of a fireplace on the floor, this kitchen has a wonderful wood-fired brick oven adjacent to the more modern range. This setup would be ideal for anyone who loves to bake bread or craft their own pizzas, and even using a modern wood-fired oven certainly creates a link to the past. Finally, this Massachusetts home shows that sometimes the stove can be made to match the rest of the kitchen. The older-style oven is finished with a high temperature paint that closely matches the color of the cabinets. While the form of the stove and its exhaust betray its age, the addition of modern features like a pot filler keep this setup functional in the modern day. We think that timber frame homes are the perfect showcase for a wonderful kitchen, whether fully modern or with rustic charm. If you agree, please contact our team today about designing and building the perfect kitchen and Timberpeg home for you.