One of the great benefits of owning a home, and indeed of designing and building a new home, is being able to make all the details work just right for you. One of the great limiting factors in design has always been major appliances. Since they have only a few sizes and form factors, rooms like kitchens often get designed around the appliances. However, some options can free up the design process.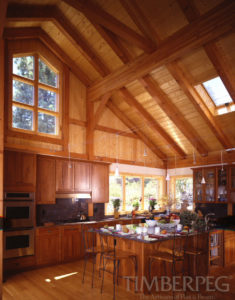 The oven/range combination is a staple in most kitchens. While this appliance combines the two cooking appliances into a neat and cost-effective package, it also entails many compromises. Essentially all of these stovetops are 36 inches high, which in turn dictates that the lower cabinets be this high as well. As we've discussed before, this creates a working surface that is too high for many people. Additionally, the oven is very low to the ground and inconvenient to use.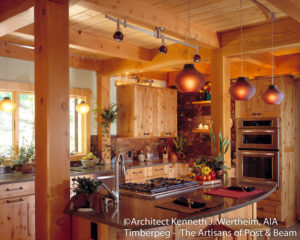 A wall oven with a separate range solves these issues nicely. The wall oven is typically mounted flush with cabinetry at a much more natural height starting around 20 to 30 inches off the floor. As an added convenience, most wall ovens are a double oven design which makes baking or cooking at two temperatures simultaneously a snap. The separate range mounts flush with the countertop, which can now sit at a non-standard height if desired. This leaves space immediately below the range for convenient storage of pots and pans.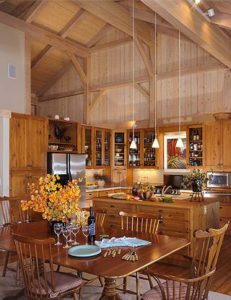 This leads us to another recent appliance trend which is perhaps best reconsidered. Lately, it has become very fashionable to have a built-in microwave below the countertop. While this installation is certainly very sleek, it leaves the microwave in an inconvenient place much the same as a traditional oven. In fact, the placement is even more cumbersome, since microwaves are typically used for short durations with small vessels. Leaving the microwave at countertop level or elevated above the stove or in an upper cabinet is a better bet from a usability perspective.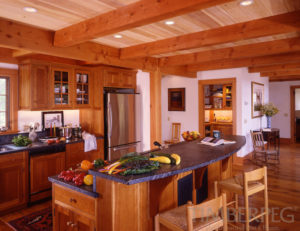 Dishwashers have experienced a shift in their design to render them sleeker. Newer dishwashers often have a design where the controls are hidden (sometimes called integrated) on the top of the door. This means that when closed all you see is the front fascia and handle, which creates a very smooth appearance. If you like to see the controls and timer while the machine is running then this style isn't for you, but many appreciate the minimalist appearance of the new designs.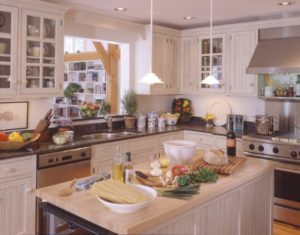 If you're looking to design a new timber frame kitchen, complete with appliances that are both attractive and convenient, please contact Timberpeg today.