For those who love the style of a classic farmhouse, but who also have a taste for all things clean and modern –
this New Jersey home is bound to please
.  The property has several buildings designed by our in-house design department – a main house, pool house, and auto barn.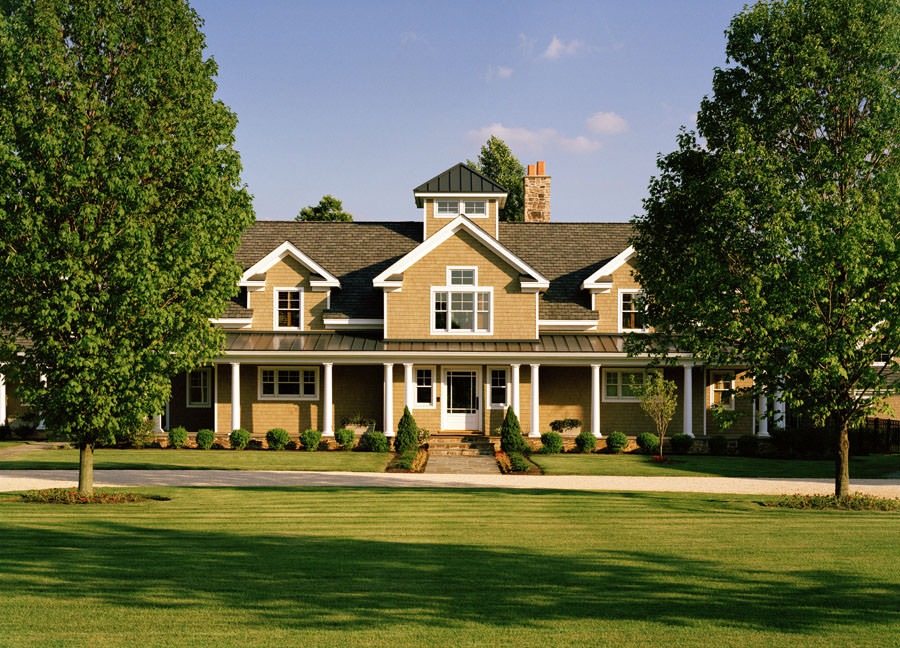 The front view of the home shows how clean and welcoming the main house is.  The trim is white and crisp against the neutral palette of the home.  The symmetry of the house is echoed in the symmetry of the landscaping.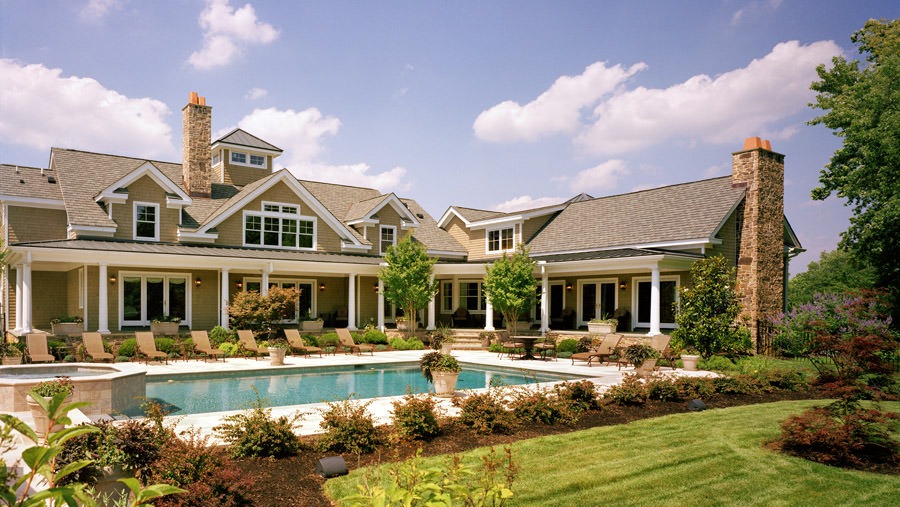 The rear of the home showcases the beautiful custom pool.  The landscaping is kept simple and structured to blend with the style of the home.  The 'L' shape of the home, combined with the covered porch running the entire length, gives this back yard a pseudo-courtyard feeling.  At the other end of the pool sits the post and beam pool house: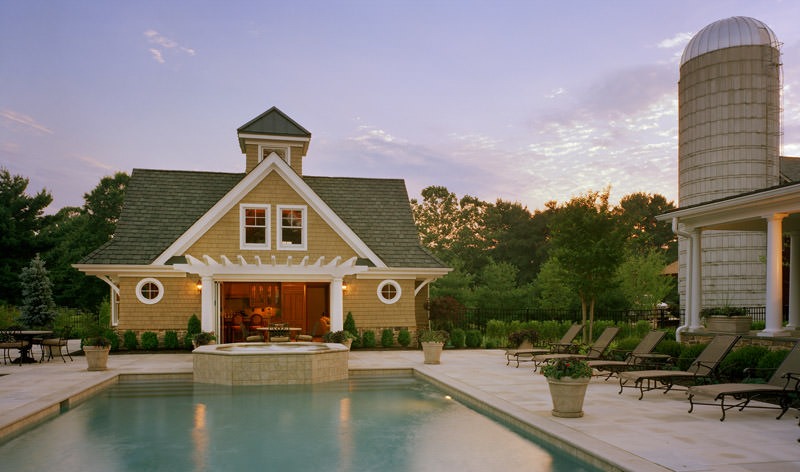 The pool house blends the look of simple luxury with timeless barn styling.  The cupola adds visual interest as well as an extra feeling of height.  The trim and siding colors are identical to the main house, making this pool house feel like an extension of the main home.
The post and beam great room blends perfectly with the easy sophistication exuded by the home's exterior.  The color palette is warm and neutral without feeling bland.  Furniture is both comfortable and formal.  The bronze horse statue pays tribute to the homeowners' love for their horses.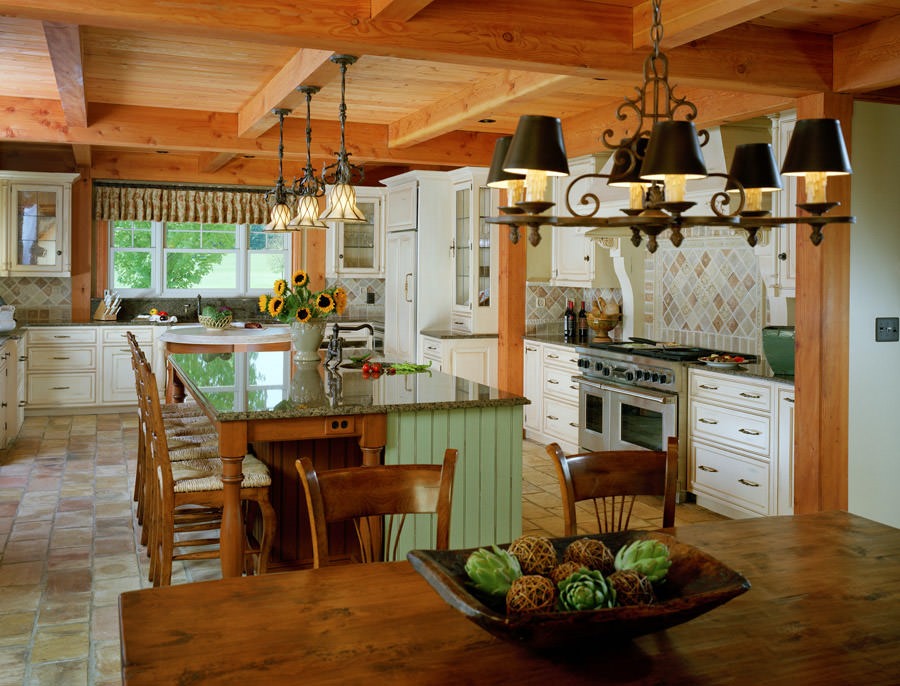 The kitchen is alive with an abundance of farmhouse charm.  The tile floor has a rough, tumbled finish which makes the room feel laid back and well worn.  The green bead board finish on the center island, brings in a fresh flourish of color to the largely neutral room.  Provencal style light fixtures bring the feel of French country to the farmhouse table.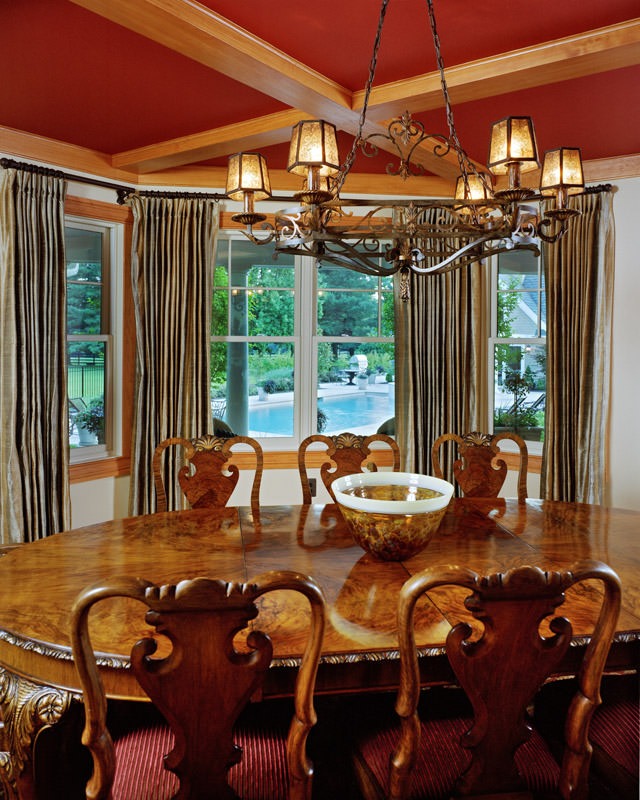 While much of the home has a laid back, casual feel, the dining room is on the formal side.  The walnut burl table is a true work of art.  The intricately carved chairs are elegant yet have a robust presence to them.  The coffered ceiling shows off the post and beam frame without becoming the dominant feature in the room.  A beautiful tortoise shell bowl, with is complex organic pattern, is a perfect choice to adorn such a stunning table.
If you're interested in building a modern post and beam home with the charm and style of a farmhouse, we hope you'll contact us for more information.  Bonus:  See the guest pool house that was built on the same site.
Photography by:  Fred Forbes Photogroupe